Cardiovascular and Thoracic Surgery
Shifa International Hospital's cardiac surgery unit provides the most advanced and comprehensive care for cardiac, vascular, and pulmonary problems in the region. An experienced and qualified team of Cardiologists, Cardiac surgeons, Anesthetists, OR & Cath lab technicians, Nurses, and Pharmacists work together to provide integrated & individualized care to each patient. The department offers a wide range of clinical services as well as diagnostic, therapeutic, and rehabilitation facilities for the patients.
Or Dial 051 846 4646 from your Smartphone.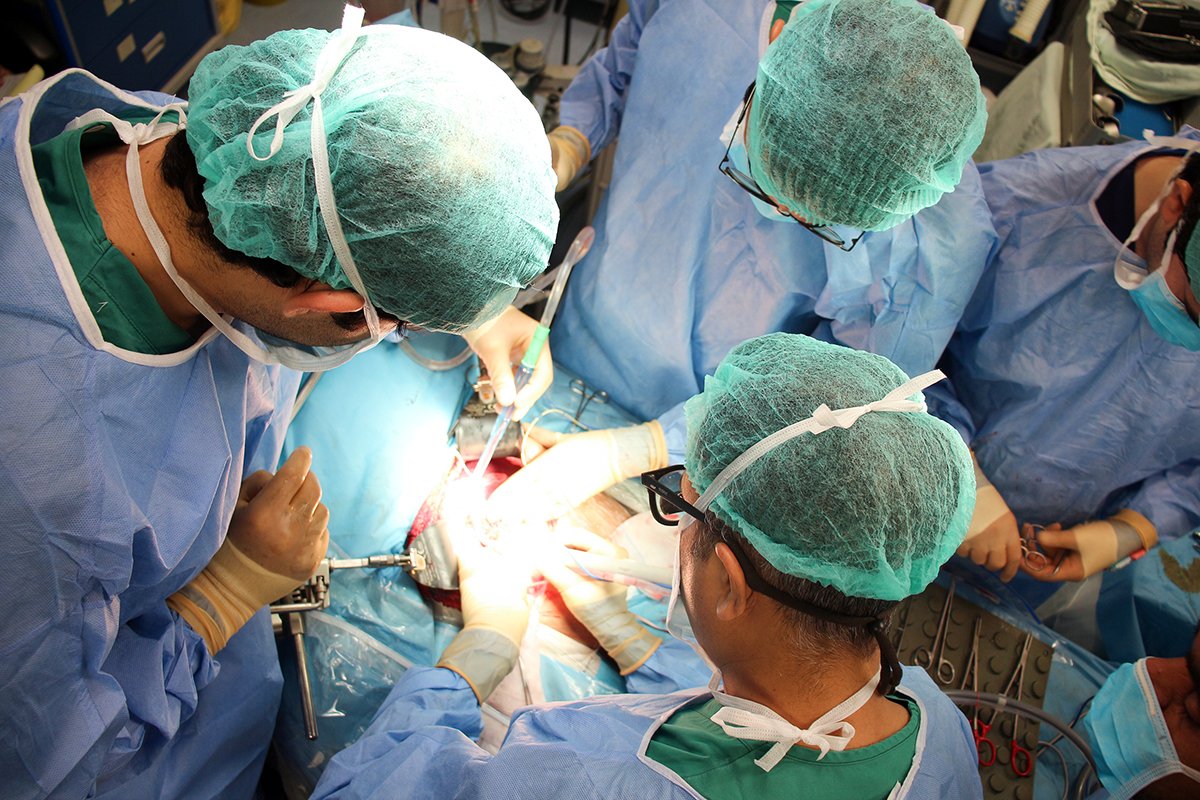 Shifa Department of Cardiovascular & Thoracic Surgery
The department houses a full-time dedicated team of foreign qualified and trained cardiac surgeons, anesthetists & intensivists. Over the past few years, the variety of cases being performed in cardiac surgery has expanded from adult cardiac surgery to more sophisticated sub-specialized fields such as aortic root surgery, thoracoabdominal aortic surgery, valve repair, adult congenital cardiac surgery, and pediatric cardiac surgery.
In coronary revascularization (CABG), we are the only center that offers the latest technique of Total Arterial Revascularization which has a proven superior long-term survival compared to the conventional vein graft operations.
In Thoracic Surgery we undertake the complete spectrum and currently are offering minimal access to tumor resection, lung volume reduction, empyema surgery, and diagnostic procedures. Our surgeons are uniquely trained and experienced to weigh the various treatment options available, including medical therapy, as well as surgical and endovascular approaches. By offering the entire spectrum of therapeutic options, our physicians can assure patients that they are receiving the most appropriate therapy for their conditions. In this way, the patient will receive:
Better outcomes
Faster recovery times
Optimal quality of life
Improved outlooks for the long term
Our surgeons' extensive experience in managing complex aortic aneurysms as well as other rare aneurysms of the arterial branches makes us expertly qualified to manage all vascular surgical patients. The vascular surgery team collaborates with our colleagues in cardiology, internal medicine, neurology, interventional radiology, and podiatry in order to offer each patient a multidisciplinary, yet individualized, diagnostic assessment and therapeutic plan. Each year our surgeons evaluate hundreds of patients with circulatory conditions ranging from the common to the rare. Our commitment is to diagnose the patient's problem precisely and to provide the most effective therapy specifically tailored for that individual's needs. Our goal is to optimize our patients' circulatory health.
Shifa has a team of the best Cardiologists in Islamabad, making sure that we fulfill all the necessities for a cardiology hospital we offer the following services. 
Cardiac surgery:
Coronary artery bypass surgery (CABG)
Beating heart surgery
Hybrid cardiac intervention
Stenting and/ or keyhole cardiac surgery
Value repair (Keyhole & conventional)
Congenital cardiac surgery
Vascular Surgery:
Keyhole surgery for aortic aneurysm (enlargement), dissection (split aortic wall) and rupture Carotid artery surgery for threatened stroke
Peripheral artery angioplasty
Stenting & bypass surgery
Repair of blood vessels
Thoracic Surgery:
Keyhole surgery for a diagnostic procedure, hyperhidrosis (sweaty palms)
Surgery for collapsed lungs
Surgery for lung cancer
Surgery for chest deformities
Surgery for chest problems in children
Additions & Upgraded Services:
Key-hole chest surgery
Pediatric cardiac surgery