DEPARTMENT OF PHARMACY SERVICES
Aim
to provide quality medicines with compassionate care.
Mission
is to provide cost effective, compassionate and quality pharmaceutical care to all patients with optimum support in all clinical areas with complete guidance and counseling.
Vision
is to be recognized as center of excellence and regional leader in pharmaceutical care through quality services, effective resource management, technological excellence through education and research.
Services
The scope of pharmacy services includes:
Inpatient pharmacy Service
Ambulatory Care (OPD) Pharmacy Services
Chemo Admixture Service (Oncology Pharmacy)
Compounding, TPN and IV Admixture Service
Drug & Poison Information Centre
Clinical Pharmacy Service
Surgical Supplies Distribution
Further details of each service are given below: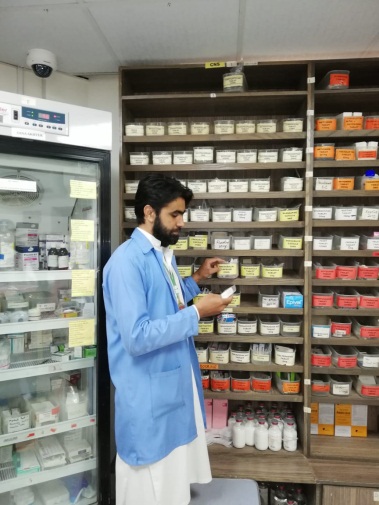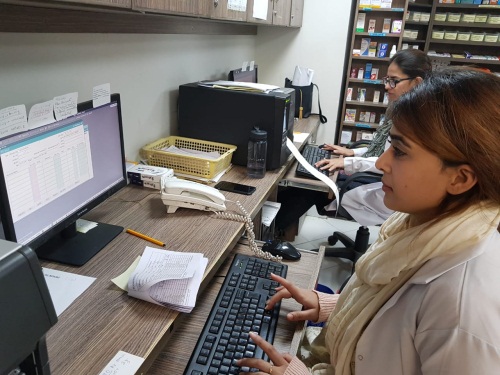 24/7 working under supervision of qualified pharmacists
Maintaining optimum storage & safety requirements for drugs & supplies
Pharmacist intervention to avoid prescription/administration errors
Inventory and expiry management
Medication Reconciliation upon admission
Nursing education
Floor stocks, transfer kits and crash cart management etc.
Stat order and modified unit dose drug dispensing
Provision of drug information
Training of residents and interns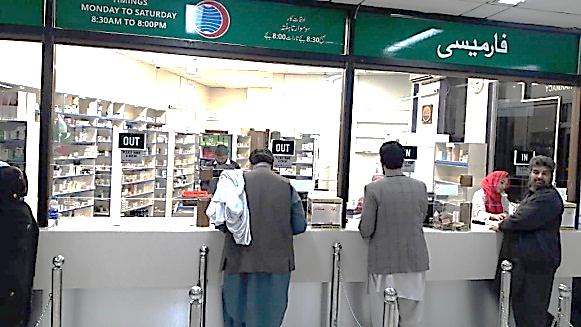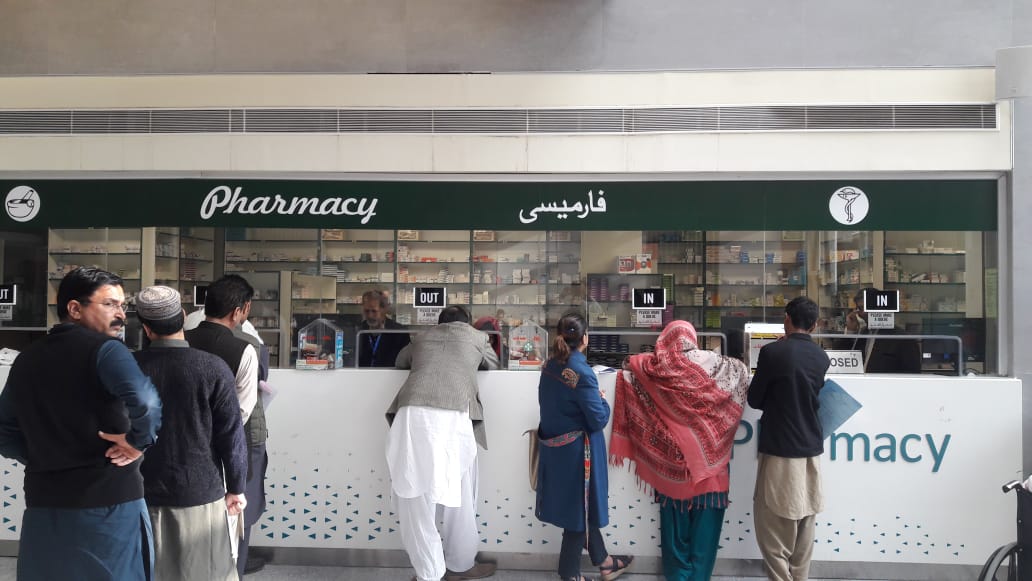 Dispensing under supervision of qualified pharmacists

Maintaining optimum storage & safety requirements for drugs & supplies

Pharmacist intervention to avoid prescription/administration errors

Inventory and expiry management

Patients counseling and education

Patient education brochures and demonstration of device use

Dispensing of vaccines and other specialized products

Floor stocks and crash cart management etc.

Provision of drug information

Training of residents and interns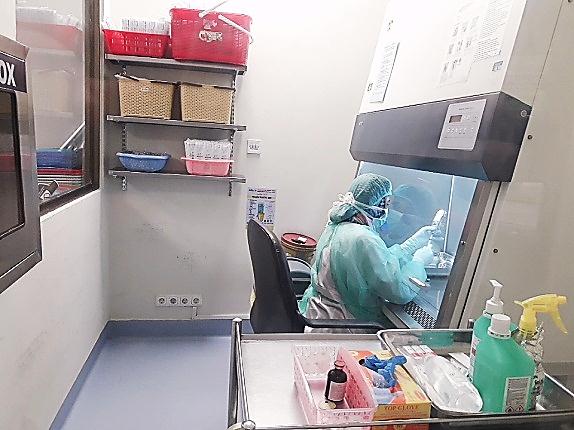 Dispensing under supervision of qualified pharmacists

Maintaining optimum storage & safety requirements for drugs & supplies

Pharmacist intervention to avoid prescription/administration errors

Inventory and expiry management

Mixing and dispensing in most ready to use form of chemo drugs including IV, IT, PO and other routes

Patients counseling and education

Specially designed clean room and biological safety cabinets

Managing specialized dosage forms like ambulatory infusion pumps

Floor stocks and crash cart management etc.

Provision of drug information

Training of residents and interns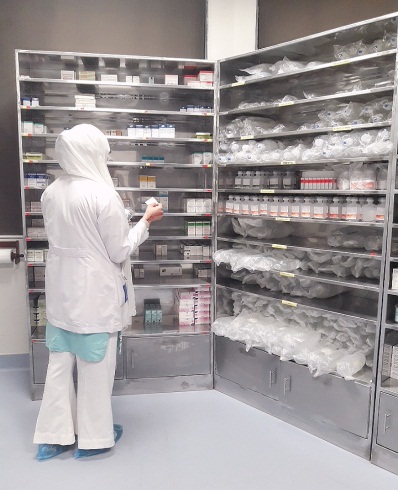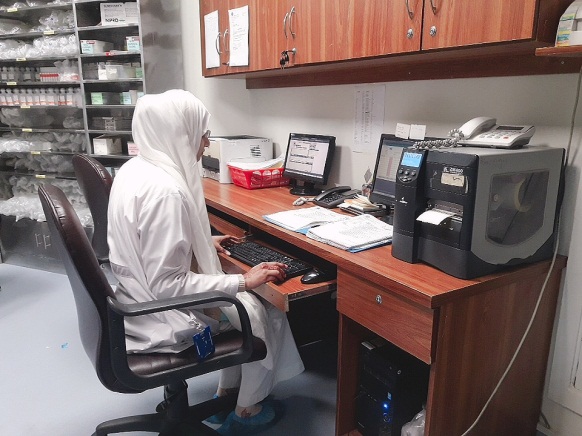 Compound a wide array of non-sterile and sterile products such as ointment, creams, lotions, syrups, capsules, injectables, irrigation sol., eye preparations etc.

Clean room as per USP 797/800 guidelines

Horizontal laminar flow hoods

Dispensing under supervision of qualified pharmacist

Maintaining optimum storage & safety requirements for drugs & supplies

Inventory and expiry management

Pharmacist intervention to avoid prescription/administration errors

Mixing and dispensing in most ready to use form of IV antibiotic to admitted patients

Individualized (patient wise) Total Parenteral Nutrition (TPN) compounding

Training of residents and interns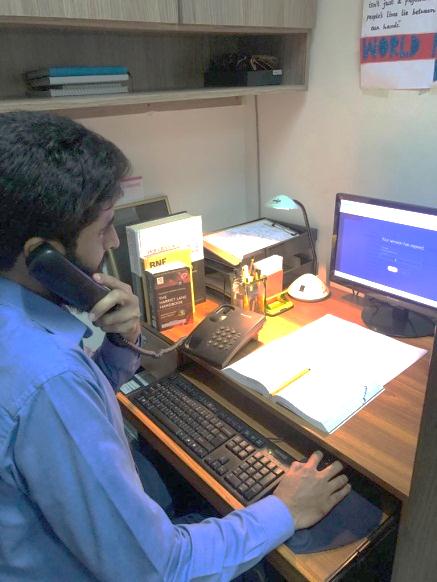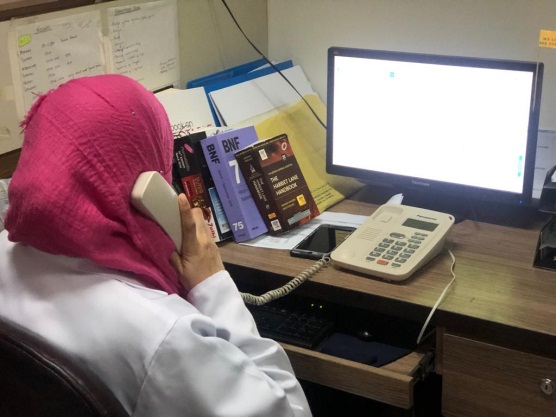 Provision of drug or Poison management information to healthcare professionals & community (layman)

Making drug evaluation monographs for formulary addition/deletion

Managing publications of newsletter

Safety alerts/memos/updates are released

Medication Availability alerts or recall alerts are released

Multidisciplinary Clinical rounds in key high risk wards (e.g. ICUs, Oncology, Transplant, Peads). Identifying and rectifying drug related problems

ADR tracking and reporting – trend analysis

Managing KPIs of clinical pharmacy e.g. renal dose adjustment, antibiotic stewardship, TDM, IV to PO switch etc.

Managing continuous education sessions for pharmacy staff, assessment tests and trainings (brief internships and 1 year post graduate residency program)

Managing clinical rotations of sister-concern Shifa Tameer-e-Millat University (STMU) Pharm.D students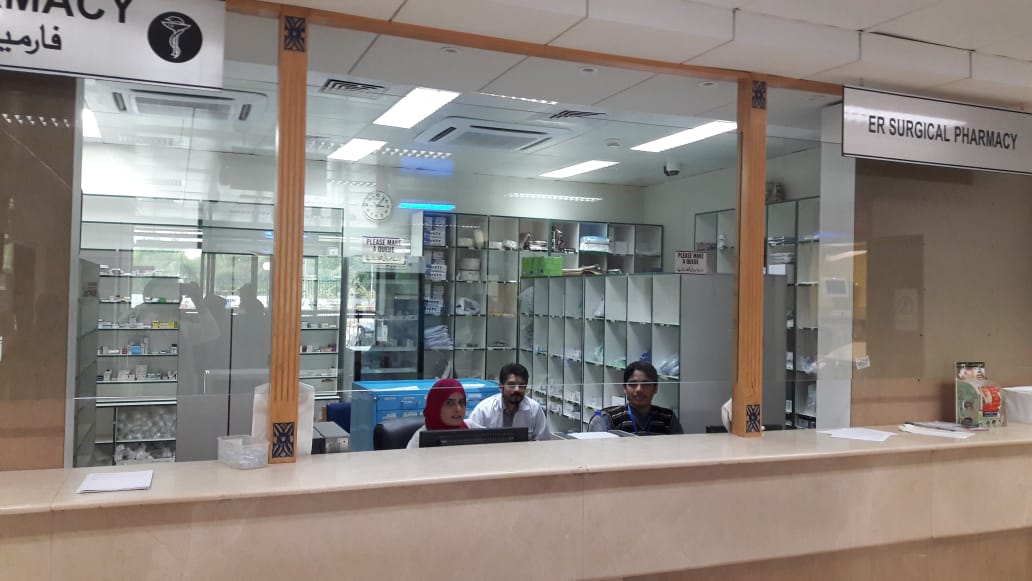 Pharmacist oversight to entire service

24/7 services – coverage to all critical areas: ICUs, wards, clinics, Cathlab, ER, diagnostics and OT

Maintaining optimum storage & safety requirements for supplies

Interventions to avoid over/under charging of supplies

Inventory and expiry management

Serve as a central source of information on all surgical supplies