Shifa at a Glance
The idea of Shifa International Hospital was conceived by a team of expatriate healthcare professionals in 1985 in New York, USA. Their objective was to provide international standard medical care to the people of Pakistan.
After much discussion, it was decided to begin this project in Islamabad, the capital city of Pakistan. In 1987, the Hospital was incorporated as a Private Limited Company and then later converted into a Public Limited Company as the only hospital listed on Pakistan Stock Exchange. Shifa was officially opened in 1993, with 8 OPD Clinics & 36 beds.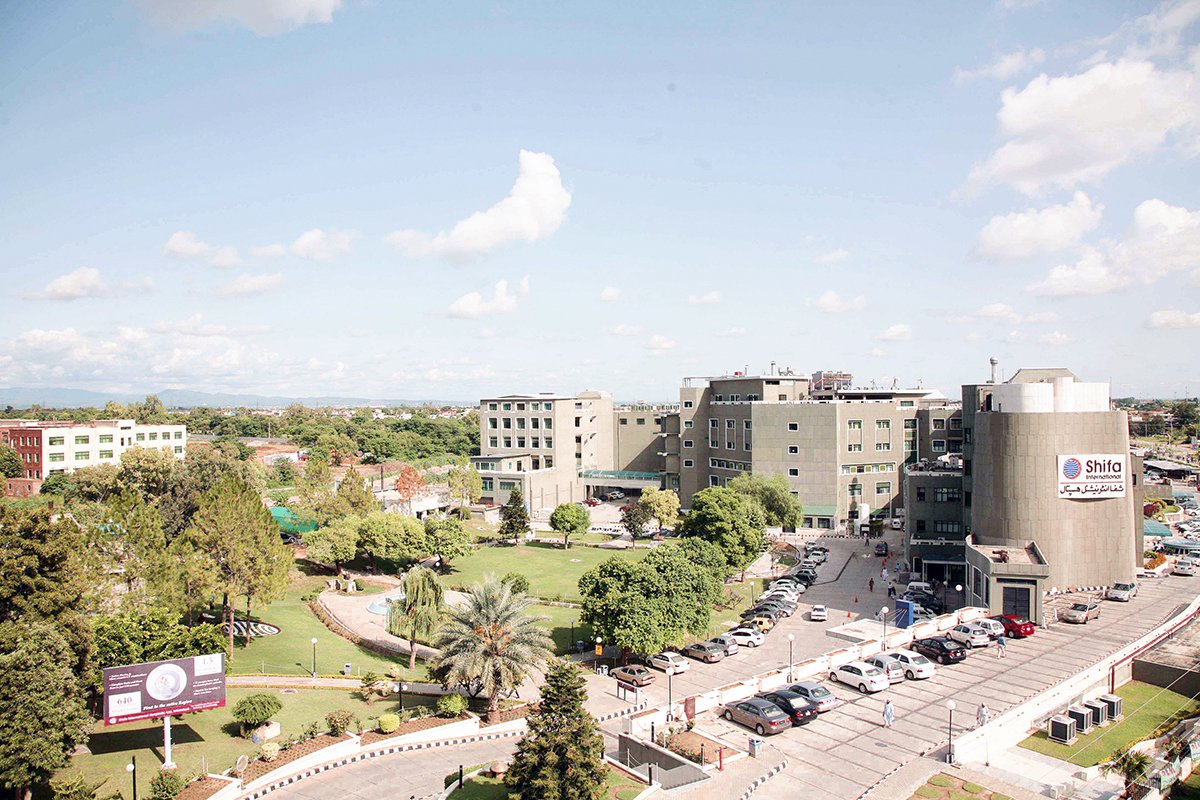 Our Mission
Healthcare with Compassion for all
Our Vision
To be the Region's Leader by providing Quality Healthcare Services
Our Values
Compassion, Commitment, Teamwork, Quality, Respect and Accountability
Our Strategic Priorities
Physician Partnership and Enhanced Clinical Quality
Providing Seamless/ Easy Access Care Delivery
Financial Strength/ Viability
Strategic Growth
Shifa International Hospital is a quaternary care facility in Islamabad offering comprehensive diagnostic facilities, outpatient clinics and inpatient services in 30+ medical & surgical specialties
Shifa International Hospital has around 200 U.S, E.U, internationally & nationally trained and qualified Physicians and Surgeons working under one roof
Since 1994, it is still the only corporate sector tertiary care hospital to be listed on Pakistan Stock Exchange (PSX). It also ranked Shifa 16th out of the top 25 companies of Pakistan in 2016
Shifa International Hospital (H-8/4, Islamabad) is accredited by Joint Commission International (JCI) USA, which ensures compliance and commitment to patient healthcare safety and quality
It covers the national footprint and outreach with a network of lab collection points, pharmacies & medical centers including a hospital in Faisalabad
Shifa has been offering multi-specialty organ transplant services such as Liver, Kidney, Bone Marrow and Cornea
As a socially responsible organization, Shifa treats 500 + deserving patients every day through Shifa Foundation since 1994
In addition, various strategies are in motion for the vertical and horizontal growth of the company at the local, national and international level
Private Hospital Sector – An Important Tier of Healthcare Delivery System in Pakistan
Healthcare plays an important role in any country's economy as a healthy population is not only valued in its own right, but it also uplifts the human capital of a country and positively contributes to the economic and social development.
Pakistan, being the world's 5th largest nation by population, faces various constraints and limitations to ensure equitable & convenient access of specialized quality healthcare services to the masses. Greater quality and access call for further thinking on the role of the private sector into health systems and a partnership between public and private sectors to address the challenges of affordability, quality, and availability of healthcare. With financial sustainability, care delivery, patient centricity, digital transformation, and regulatory compliance at the top of the agenda, all healthcare stakeholders need to collaborate within the healthcare ecosystem and those in converging industries to shape the future of healthcare and establish a sustainable & smart health community.
Growth Potential of Private Hospital Sector
In Pakistan, under article 18th amendment, healthcare services are the obligations of provincial governments except for the federal area. The huge gap left by the public sector is being filled by the private sector and its rapid growth is not only visible but also commendable. Very few private entities have come up as models in this national cause and there is a need to study them and improve the overall system of healthcare to secure a bright future for coming generations. Today Pakistan's mushrooming private healthcare entities need to be brought under a healthcare accreditation body to regulate the performance of quality care and safe treatment outcomes. Healthcare in Pakistan is mainly administered in the private sector which accounts for almost 80% of all outpatient visits. The ongoing growth of corporate investment in the private health sector will surely have a considerable impact on Pakistan's healthcare delivery system as the growth of private hospitals further improves quality and patient-focused healthcare.
Need for a Corporate Healthcare Model in Pakistan
Growing population, increased prevalence of chronic diseases, deficiency of trained physicians, nurses and technicians as well as a lack of modern medical technologies and a multitude of other factors continue to increase healthcare demand in the country. The over-burdened public hospitals, in particular, are striving to manage the clinical, operational, and financial challenges to meet this demand. The emergence of a Corporate Healthcare model with the advent of companies/ organizations can better develop and effectively run new businesses and healthcare delivery models aided by the latest digital technologies to solve today's problems and build a sustainable foundation for affordable, accessible and high-quality health care.
Private hospitals and companies not only become an integral part of a country's healthcare delivery system, they also contribute towards social as well as economic development by helping governments in collection of taxes. A healthcare organization with a corporate structure enables good governance and nourishes a culture of meritocracy and patient centric quality care. Shifa has a seasoned Board and management team comprising of professionals with adequate and relevant experience, ensuring a good corporate governance framework.