COVID-19
Coronavirus disease (COVID-19) is an infectious disease caused by a newly discovered coronavirus. Most people who fall sick with COVID-19 will experience mild to moderate symptoms and recover without special treatment.
HOW IT SPREADS
The virus that causes COVID-19 is mainly transmitted through droplets generated when an infected person coughs, sneezes, or exhales. These droplets are too heavy to hang in the air and quickly fall on floors or surfaces. You can be infected by breathing in the virus if you are within close proximity of someone who has COVID-19, or by touching a contaminated surface and then your eyes, nose, or mouth.
COVID-19 (Coronavirus) Diagnostic Testing is Available
COVID-19 (Coronavirus) Fully Automated PCR testing facility is now available at Shifa International Hospital Islamabad. Samples will only be taken through the appointment.
Advantages:
Most reliable laboratory technique recommended by WHO (World Health Organization) and currently is the gold standard for diagnosis of COVID-19
Fully Automated RT-PCR (Fast & Most Reliable)
Performed using FDA approved RT-PCR testing kits
| | |
| --- | --- |
| Test Charges | PKR 7,700/- |
| Reporting Time | Within 7 hours of receiving the sample (if received till 11 am, the report will be available by 6 pm the same day). |
| Specimen Collection | Patients need to book an appointment at 051-8464646 (from 7:00 am to 11:00 pm) before visiting the hospital premises for giving specimen |
| Test Technique | Fully Automated Real-Time RT-PCR |
| Appointment Booking | 051-8464646 |
For information, please call: 051-8464646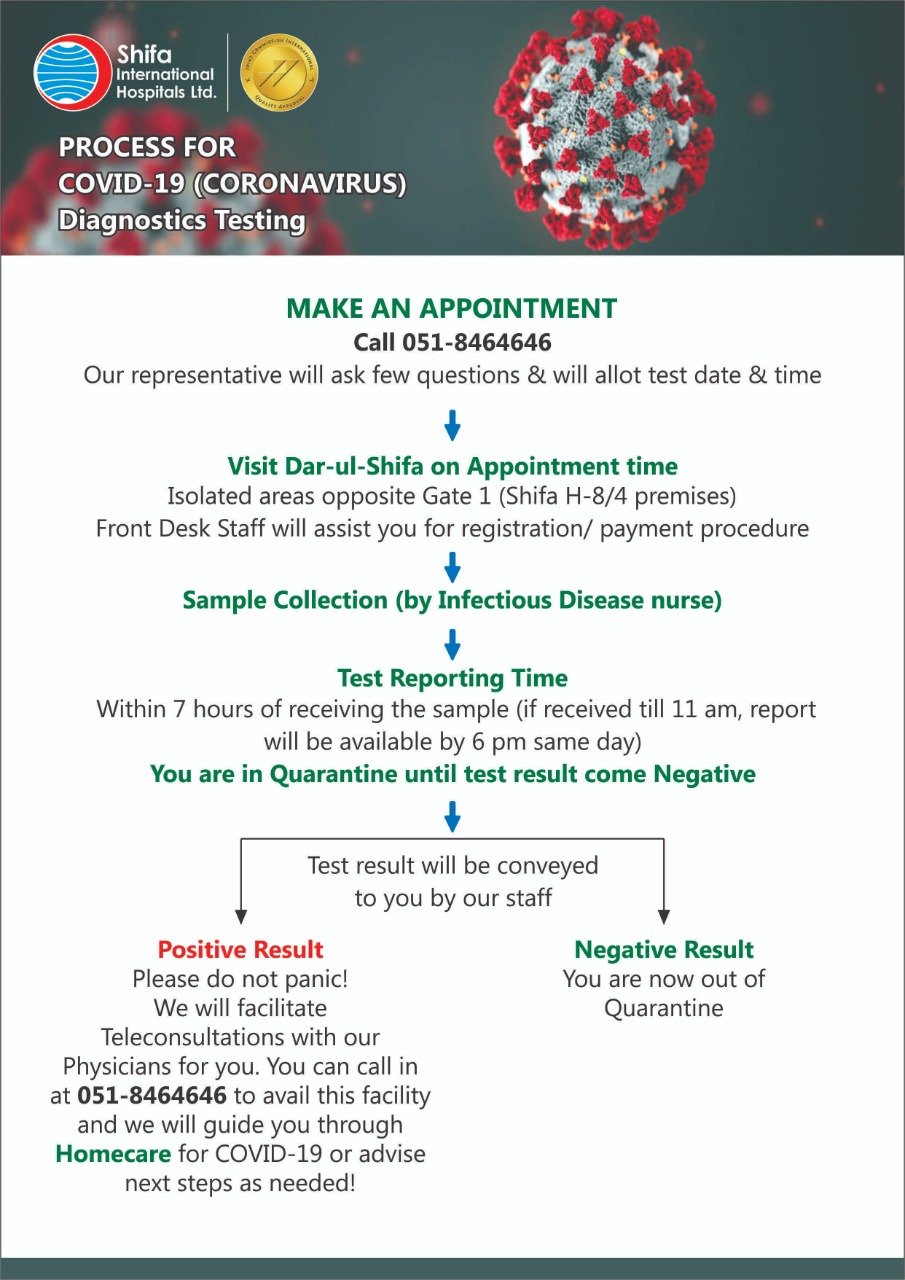 Shifa International Hospital, Islamabad is providing Free Coronavirus Helpline for the general public. This service enables people to get in touch with our doctors and get guidance on COVID-19 through a Phone Call. Our doctors guide the general public by informing them about symptoms, providing moral support & recommending necessary actions to protect themselves & their family members. This Help Line is available from Monday to Saturday (9:00 am to 3:00 pm).
Call: 0514938904
Click here to visit Shifa's COVID-19 Corona Virus Self-Assessment Screening Tool.
Our tool can help guide you to the possible isolation and treatment options based on the result of your screening.