Endocrinology and Diabetes Department is one of the important departments of the hospital. It is involved in the diagnosis and management of patients with Diabetes, obesity, hormonal disorders, thyroid, short stature, pituitary/adrenal/bony disorders and metabolic syndrome both in the outpatient and inpatient areas. The department is supported by the hospital's well equipped laboratory and radiology where all sorts of hormonal tests are being done. Majority of the patients coming for consultation, have Diabetes Mellitus type 2, the most common Endocrine disease. All services including prevention, medical management, education, nutrition, foot and eye care are being provided to these patients under one roof, and are backed by highly skilled and professional nursing staff. Department is also actively involved in public awareness programs, educational activities and medical research. Each year, public awareness programs on Diabetes & Ramadan and World Diabetes Day are carried out.
Services
Diagnosis and management of different endocrine diseases i.e. preventive pediatrics
Thyroid gland diseases / parathyroid gland disorders
Growth disorders / pituitary gland disorders
Lipid abnormalities
Disorders of male & female gland hormones
Infertility
Obesity
Osteoporosis / metabolic bone diseases
Shifa Thyroid Clinic
Thyroid hormones regulate how the body uses and stores energy. Any disruption and disturbance in levels of thyroid hormone have serious negative effects on the body. These consequences may range from simple weakness to extreme levels of fatigue, anxiety etc.
Specialist at Shifa Centre for Diabetes and Endocrinology provide comprehensive and personalized treatment for patients with thyroid disorders. Tests related to thyroid disorders are also available at Shifa International Hospital from state of the art laboratory facility.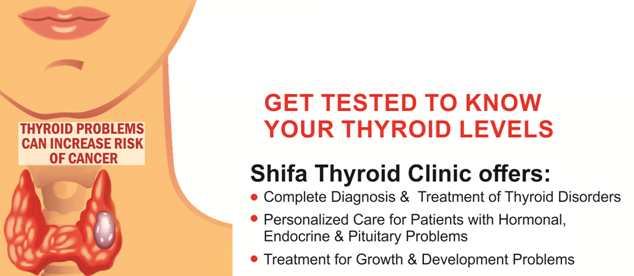 Some of the common prevailing thyroid disorders are as following
Thyroid Nodules
Thyroid nodules are growths or lumps in the thyroid gland in the front of your neck. Most thyroid nodules are not cancerous and do not cause problems. Many don't even need treatment. But if tests show cancer, surgery will be done to remove the nodule.
Symptoms
Feel pain in your throat or feel like your throat is full.
Have a hard time swallowing.
Have trouble breathing