Ear, Nose, and Throat (ENT)
It is a specialty that deals with disorders and conditions of the ear, nose, and throat (ENT) region, and related areas of the head and neck. Shifa ENT clinic offers specialized services to treat a wide range of common to complex ENT conditions in both adult and pediatric patients.
Early diagnosis of the disease is of primary importance in any specialty and it requires both competencies of the clinician and availability of the latest equipment and facilities. Shifa ENT clinic is a well-equipped facility having; audiometer, tympanometer, video otoscope, microscope for ear examination, APC (argon plasma coagulator) for nasal turbinate reduction, flexible nasolaryngoscope, and rigid nasoendoscospes, and a recent introduction of FESS (functional endoscopic sinus surgery).
For our department of Audiology please click here
Or Dial 051 846 4646 from your Smartphone.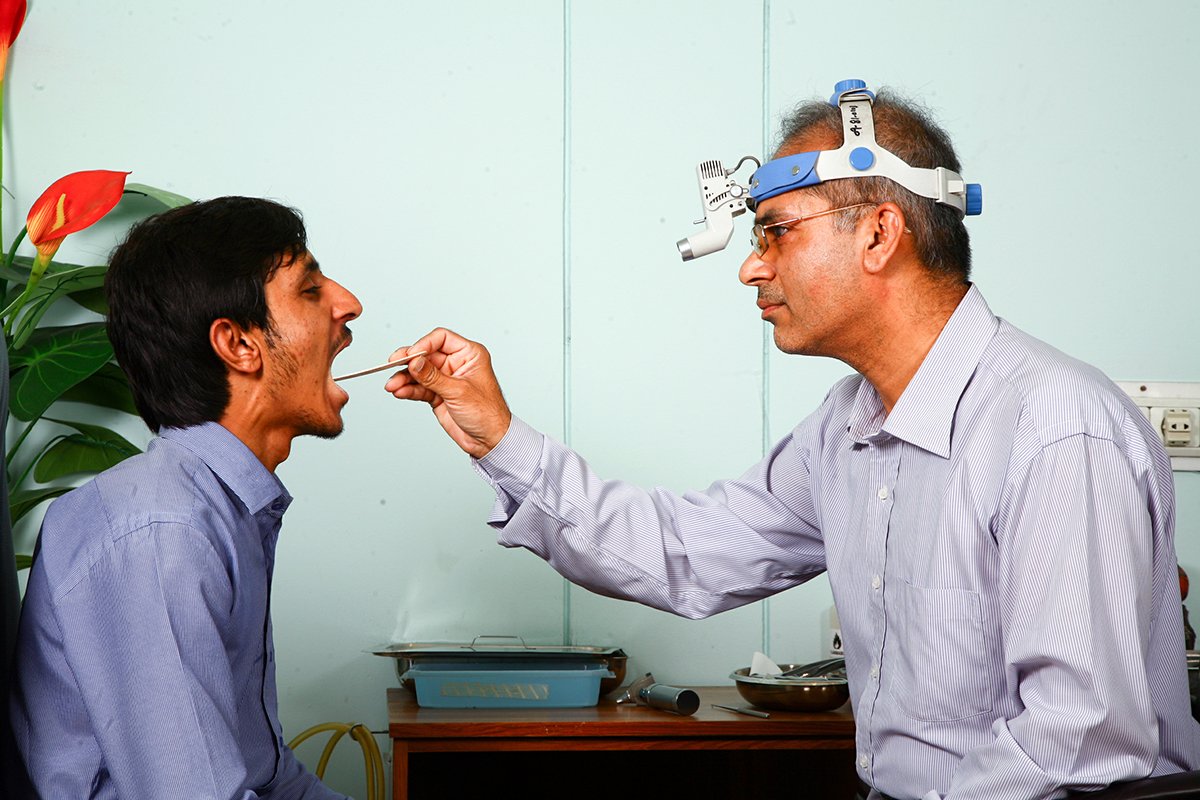 Experience A New World Of Sound
With our commitment of providing healthcare of international standards to Pakistani patients Shifa International Hospital, Islamabad has initiated its cochlear implant program in 2021
Shifa Department of Ear, Nose, & Throat
The department is staffed with a highly qualified and experienced team of ENT specialists to provide quality care and a comprehensive range of diagnostic, treatment, and surgery options for the patients.
The diseases commonly seen in the department are earache, ear discharge, hearing loss, vertigo, tinnitus, ear wax, sinusitis, nasal allergies, nasal polyp, deflected nasal septum, epistaxis (nasal bleeding), tonsillitis, snoring and sleep apnea, voice problems, neck swellings as well as tumors involving head and neck area. The department works in close coordination with a multidisciplinary of professional; i.e., plastic surgeons, oncologists, immunologists as well as radiologists to provide quality and integrated care to the patients.
Head & Neck Surgery

Some of the human body's vital organs are located in the Head & Neck region which are sometimes susceptible to cancers & tumors. Also, head and neck diseases & disorders include neck masses, Grave's disease, etc. Shifa International Hospital is nationally recognized for offering the most advanced and state-of-the-art treatment and diagnostic options for Head & Neck diseases and disorders. Each year our highly trained and qualified ENT specialist treats hundreds of common and complex Head and Neck procedures. Below mentioned are among some of the procedures performed at Shifa International Hospital
Removal of the thyroid gland (thyroidectomy)
Repair of Eardrum Perforations
Sinus Surgery
Endoscopy for pituitary tumors
Throat Cancer Surgery
Microsurgery for Acoustic Neuroma Tumors
Voice Clinic
Not being able to speak properly limits one's interpersonal interactions and impacts quality of life thus it is essential to take care of your voice. It is also implied that having a "croaky" or unhealthy voice might be an indication of unhealthiness. Lifestyle plays a crucial role in the health of your voice, below mentioned are a few suggestions to keep your voice healthy.
Shifa Voice Clinic is among the few centers in Pakistan offering medical solutions to professionals and common people with their voices. Our voice disease and disorder services constitute a combined treatment program involving non-surgical therapies, surgical treatment services, and behavioral interventions aimed at enhancing health and use of the vocal cords for speaking, swallowing, breathing, etc.
Audiology
Shifa International Hospital, Islamabad offers comprehensive treatment solutions for hearing diseases and disorders. Our team constitutes a highly specialized ENT Specialist and supporting staff dedicated to helping you overcome your hearing troubles.
We provide individualized attention aimed at helping our patients function happily and effectively in their day-to-day lives. Our satisfaction comes from the joy our patients feel when they hear better and can once again connect with friends, family, and the world around them. Each person's hearing loss, listening needs, and preferences are different. You can count on our hearing care professionals to take the time necessary to understand your specific needs and concerns. Our patient-centric approach towards patients' treatment ensures the best healthcare services and outcomes of treatment in the form of hearing better and being able to connect with friends, family.
We have some of the best ENT specialists in Islamabad on our rosters, the list follows as: 
Dr. Zafar Iqbal
MBBS, DLO (PAK)
Consultant ENT Surgeon
Dr. Mohammad Amin
MBBS, FRCS (UK)
Consultant ENT Surgeon
Dr. Shayan Shahid Ansari
MBBS, MRCS (Edn), CCT(UK), FRCS-ORL-HNS (Edn)
Consultant ENT Surgeon
Dr. Mohammad Zafar Rabbani
MBBS, MCPS, FCPS
Consultant ENT Surgeon
Dr. Muhammad Azeem Aslam
MBBS, FCPS
Consultant ENT Surgeon