Ophthalmology
Ophthalmology is a branch of medicine that deals with the diagnosis, surgical prevention, and treatment of different eye disorders. An Ophthalmologist is a medical and surgical specialist, who specializes in treating disorders of the eye, and systemic diseases that manifest in the eye or tissues surrounding it. Ophthalmologists also offer osteopathic treatments which may include the application of corrective lenses to repair vision.
The three most common and dangerous eye diseases are diabetic retinopathy, glaucoma, and age-related macular degeneration. With the rise in diabetic patients, diabetic retinopathy has evolved into a critical issue for patients between the ages of 40-59.
Ophthalmology Department at Shifa is helping adult and pediatric patients see the colors of life vividly. The Department offers state-of-the-art treatment for various eye diseases. Our highly qualified and foreign-trained consultants have specialized training in treating cataracts, glaucoma, corneal transplant, cancer of the eye, diseases of the eyelids, retina, and macular hole treatment.
Or Dial 051 846 4646 from your Smartphone.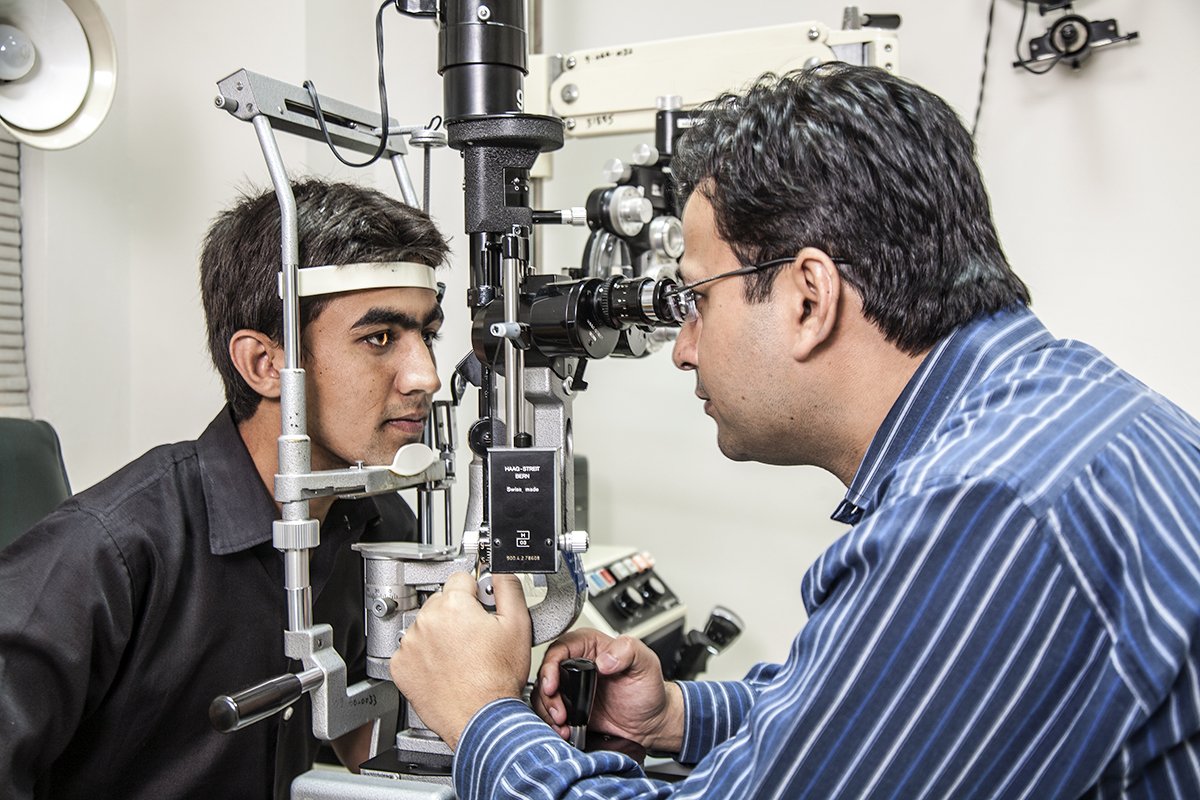 Retinal Surgery
Shifa Ophthalmology Clinic is leading the way in providing most advance and effective treatment options for a range of eye diseases by using state-of-the-art technology for early and accurate diagnosis.
Shifa Department of Opthalmology
Shifa Ophthalmology Department continues to remain at the forefront of providing specialized care for different eye conditions and diseases in Pakistan. In addition to glaucoma, squint, refractive, and pediatric surgery, the clinic uses a state-of-the-art INFINITI Vision System for various simple to complex cataract surgeries. Upholding to the highest technical and ethical standards, we offer patients Corneal Topography Scans, Optical Coherence Tomography Scans, Fundus Fluorescein Angiography, Visual Field Assessment, and B-Scan Ultra-Sonography.
Our multidisciplinary team of endocrinologists, oncologists, neurologists, and plastic surgeons closely collaborate to provide every patient with comprehensive care precisely to their needs.
A Part of its achievement, the Corneal Transplant Center in Pakistan has been running efficiently at Shifa International Hospital. Shifa International Hospital works in close collaboration with HOTA (Human Organ Transplant Authority) to ensure high-quality standards in donor corneal harvesting and transplantation. The ophthalmology department has also performed retina surgeries and specializes in the diagnosis, treatment, and surgical management of primary, secondary and complicated glaucoma in patients of all ages. SIH's ophthalmology department also offers a variety of Oculoplastic Services for medical and aesthetical treatment and a range of treatment options for diabetic retinopathy, retinal vein occlusion, and age-related macular degeneration in the form of laser and anti-VEGF injections.
The spectrum of Ophthalmology services includes:
Anterior and posterior segment eye surgeries
Glaucoma surgeries using antimetabolites and valve implants for resistant causes
Posterior vitrectomy with intraocular laser options. State of the art 25G and 27G Sutureless posterior vitrectomy
Retinal and macular disorders treatment
Laser and ANTI VEGF injections for Diabetic Retinopathy
Cataract operations with Astigmatic, Bifocal and multifocal lens implants
Pediatric ophthalmic services
Laser-refractive surgery to remove glasses
Corneal transplant for all ages (affiliated with American Tissue Bank International, a Donor Bank)
24-hour emergency ophthalmic services
Trained optometrist and orthoptist for pediatric care
A wide range of diagnostic equipment includes;
Optical Coherence Tomography (OCT)
Corneal tomography
Ophthalmic B scan device
Biometry
Fundus angiography
Visual field analyzer
Dr. Zeba I. Matin
MBBS, FCPS , FRCS (UK)
Consultant
Dr. Farooq Afzal
MBBS, FRCO (UK)
Consultant
Dr. Saadia Farooq
MBBS, MCPS, FCPS, FRCS (UK)
Consultant
Dr. M. Amer Awan
MBBS, MRCOphth, MRCS (Ed), FRCOphth, FRCS (Ed)
Consultant
Dr. Sulman Jaffar
MBBS, FCPS
Consultant
Dr. Ayisha Kausar
MBBS, MCPS, FCPS
Consultant