Orthopedic Surgery
Orthopedic surgery is a specialty dealing with acute injuries, congenital and acquired disorders, and chronic arthritic or overuse conditions of the bones, joints, and their associated soft tissues, including ligaments, nerves, and muscles.
Shifa Department of orthopedic surgery houses an internationally experienced and qualified team of orthopedic surgeons, trained in modern orthopedic medical and surgical treatment.
The orthopedic surgeons are dealing with all major elective procedures such as hip and knee replacements, limb preservation surgery in bone tumors, knee and shoulder arthroscopies, limb length and limb deformity correction with Ilizarov external fixators and pediatric orthopedics are being done here. The orthopedic unit provides 24/7 trauma services and covers all aspects of trauma including pelvic and acetabular fracture fixation, intramedullary nailing, management of open and closed fractures, etc.
Or Dial 051 846 4646 from your Smartphone.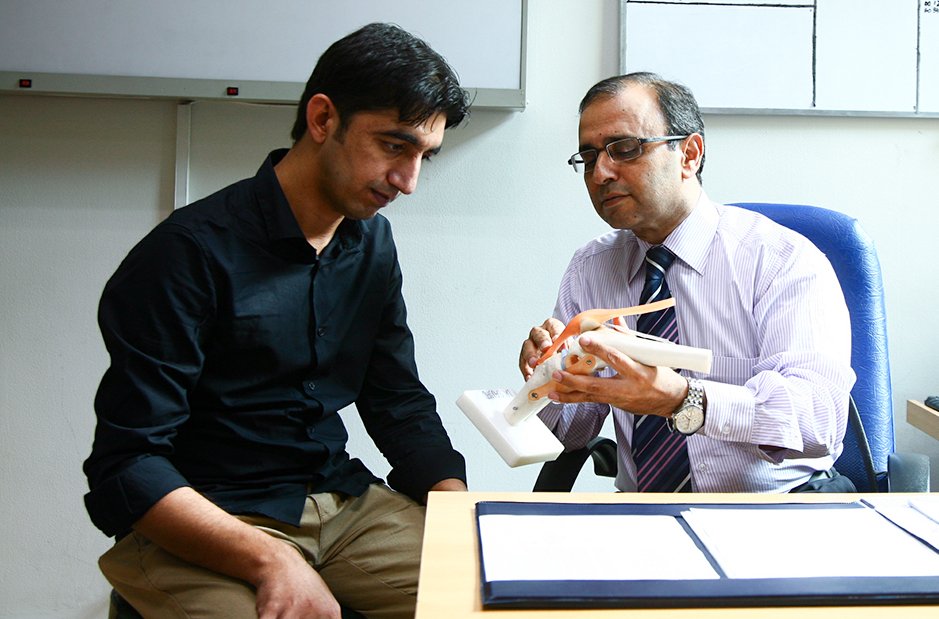 Shifa Department of Orthopedic Surgery
The Department of Orthopedic manages patients with musculoskeletal conditions such as bone and joint injuries, degenerative joint diseases, etc. The department provides a 24-hour trauma service for the hospital, managing all orthopedic trauma and injuries such as fractures and dislocations. It also coordinates the management and rehabilitation of patients after injury.
A physiotherapist with special training in orthopedic rehabilitation has been dedicated to patients' postoperative rehabilitation.
As orthopedic surgery involves joint replacements and implant insertions such as nails and plates, it is absolutely essential to pay meticulous attention to aseptic conditions. The new elective orthopedic theater has international standard laminar airflow. This is essential to minimize the risk of infection in orthopedic surgical cases such as joint replacement and implant surgery.
The equipment needed in orthopedic surgery has to be of the highest standards. The newly acquired equipment includes an operating table that can be used to take X-rays during the surgery. Inventory of the instruments used in orthopedic surgery has been renewed. Disposable surgical gowns and drapes are being used during surgeries to further minimize the risk of infection.
Management of fractures
Joint replacement
Management of upper/lower limb injuries
Arthroscopic surgeries
Arthrocentesis
Muscle biopsy
Management/correction of limb deformities
Limb salvage in bone & soft tissue tumors
Pediatric orthopedic diseases (DDH, CTEV)
Dr. Aamer Nabi Nur
MBBS, FRCS (UK)
Consultant Orthopedic Surgeon
Dr. Sajjad Hassan Orakzai
MBBS, FRCS, Tr & Orth (IRE)
Consultant Orthopedic Surgeon
Dr. Maj Gen (Rtd) Sohail Hafeez HI(M)
MBBS, FCPS (Ortho), FCPS, FRCS(Ed)
Consultant Orthopedic Surgeon
Dr. Fahim Khan
MBBS, MSc (Biomechanics), FRCS (UK), FRCS (Tr & Ortho)
Consultant Orthopedic Surgeon