Department of Radiology hosts internationally experienced doctors to provide the best quality imaging, diagnostic and treatment services in an efficient environment ensuring maximum care, patient safety for quicker recovery of the patients. Radiology department is fully integrated with the medical and surgical departments at Shifa International Hospital. Our Radiologists and MedicalConsultants/Surgeons work with skilled technologists and nursing stafffor the best results.
Radiology department is also equipped with state of the art Interventional Radiology facility for the minimally invasive treatments of critical diseases i.e. Uterine Fibroid Embolization, Prostate Artery Embolization, Fallopian Tube Recanalization and various other cancer and non-cancer treatments. Interventional Radiology uses advanced imaging (X-Rays, CT Scans, and MRI Scans) to detect the problems inside the patient's body and treat them with the help of needles, catheters, balloons and stents.
Doctors at Shifa Department of Radiology provide the highest quality diagnostic and treatment imaging services in a caring, safe and efficient environment that is enhanced by outstanding programs in research and education.
Our services are fully integrated with the medical and surgical care available at Shifa International Hospital. Radiologists and physicists work with skilled technologists and nurses to coordinate imaging services with your medical care. Using state-of-the-art equipment, our highly specialized teams perform and interpret Hundreds of Thousands examinations each year. This large number of cases, integrated with ongoing research and education, results in wide-ranging expertise in the imaging and treatment of diseases.
Shifa International Hospital boasted of a feather in the cap in 2007 when Interventional Radiology was initiated here and since then it has been known as the most advanced facility of the region providing state-of-the-art diagnostic imaging, minimally invasive procedures and treatments which in the past required alternative treatment options.
By using the power of advanced imaging (Ultrasound, X-Rays, CT Scans, MRI Scans and other innovative methods), Interventional Radiologists can see inside your body and treat complex conditions with the help of the devices such as needles, catheters, balloons and stents to open blocked blood vessels, blocked bleeding vessels, treatment of aneurysms, drain fluid collections, drain bile ducts, perform biopsies and treat many other conditions less invasively and with unprecedented precision. Interventional Radiologists use digital technology to make repairs in the body by making tiny or no incisions. Most Interventional Radiology procedures begin with the prick of a needle which is followed by the Interventional Radiologist guiding a thin wire into a blood vessel to reach and treat the source of the pain or disease. The Radiologist watches the inside of the body on monitor screens and uses the instruments accordingly. Interventional Radiology offers various advantages over traditional invasive procedures i.e. the risk of pain is minimum with no large scars and recovery time is also significantly reduced. Most I.R procedures are performed in OPD (same day procedure) as moderate sedation is used instead of general anesthesia.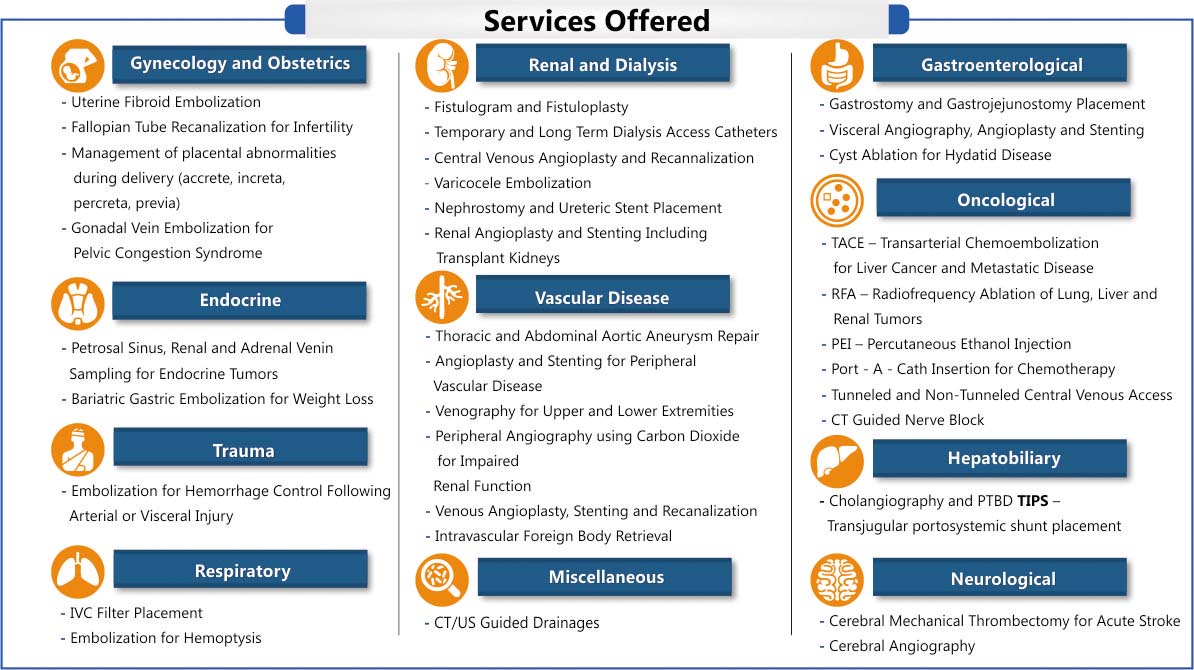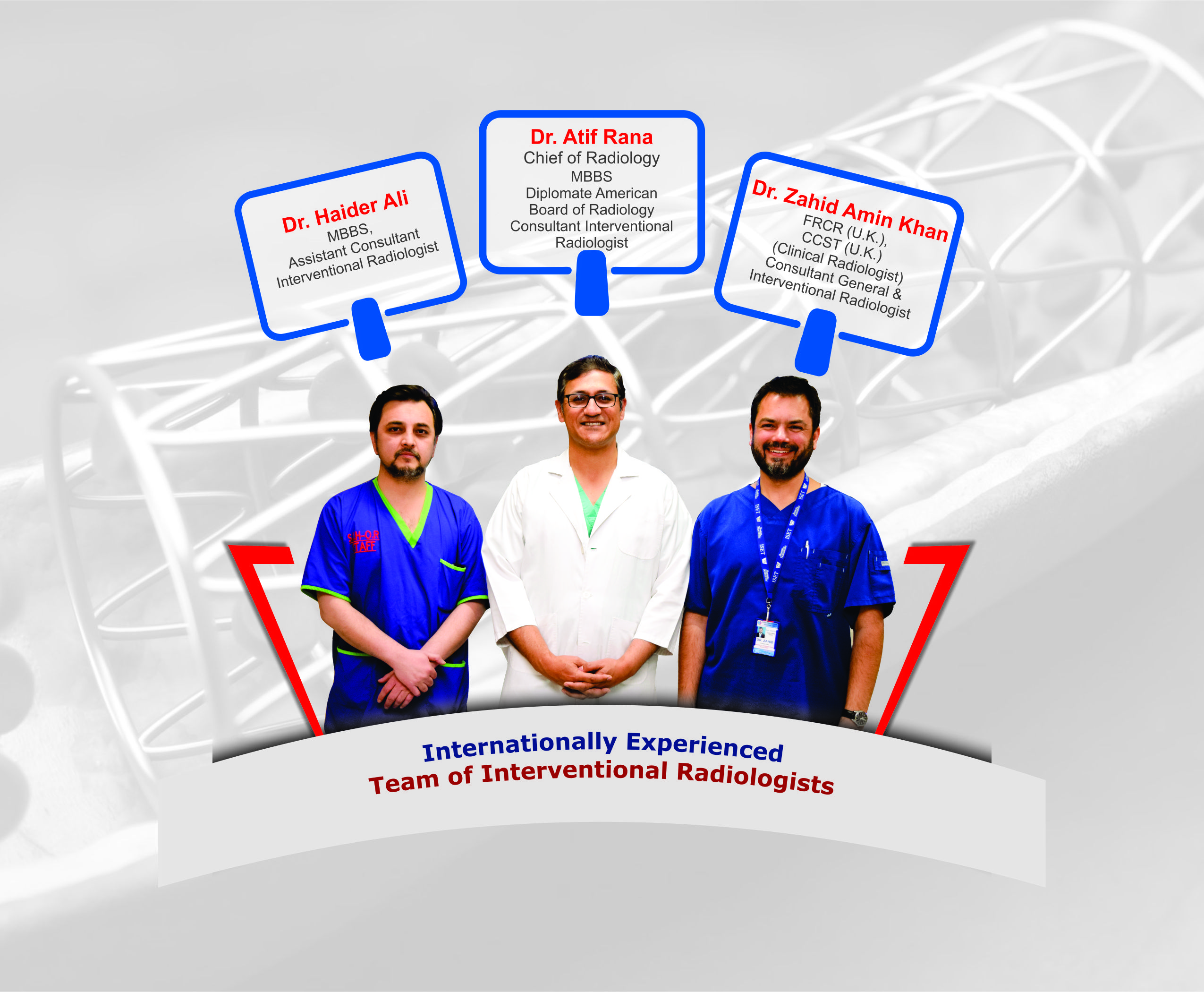 CT Scan
CT scanning (or CAT scan) can see inside the brain and other parts of the body, into areas that cannot be seen on regular x-ray examinations. CT makes it possible to diagnose certain diseases earlier and more accurately than with other imaging tools. Because most diseases are better treated when found early, CT scans can help save lives.
320 slice CT Scan machine
24 Slice Siemen, CT
Complete 3D and volumetric scanning of any part of the whole body including heart, liver and the arteries. CT Angiography at Shifa International is a safe outpatient procedure that uses specially designed X-rays and Interavenous contrast to see the detailed anatomy of the blood vessels throughout body
Services offered
Cardiac CT Angio in a single Heart beat.
Calcium Deposit Scoring
Cerebral Arteriography / Venography
Whole Body Vascular Studies like CT Angiography
CT Virtual Colonoscopy, CT Bronchoscopy (Virtual)
Dynamic , 3 Phase Scanning for Liver and other organs
Angiography
Interventional Suite/Angiography, at Shifa International consists of ceiling mounted , C-Arm based, digital flat panel detector system with large field of view, which allows acquisition of very high resolution Fluoroscopic and Angiography images of blood vessels and Thoraco-abdomino-pelvic organs.
Services
Selective and super selective cerebral (Brain) and spinal cord angiography
Angiography of chest, abdomen and legs
Treatment of narrowing of arteries
New oncology treatments for Liver cancer such as chemoembolization, Radiofrequency Ablation
Angioplasty, Stenting, IVC filter, Hepatobiliary and Genitourinary intervention. Digital subtraction angiography, Rotational angiography with vascular and non-vascular inverventions with 3D images
Service is offered, provided and supervised directly by an American trained, Board certified ,interventional Radiologist
Uterine Fibroid Embolization
Dialysis access procedures
Magnetic Resonance Imaging (MRI) is a versatile, powerful, and sensitive medical diagnostic technique that creates images of the body. MRI can generate thin-section images of any part of the body including the heart, arteries, and veins from any angle and direction, without surgical invasion and in a relatively short period of time.
This area consists of :
 0.4 Tesla, 1.5 Tesla and 3 Tesla MRI machines.
Services
Standard MRI of Brain, Spine and joints
MRI diffusion weighted Imaging
MRI Profussion
Spectroscopy
4D MRA
Abdomen and Pelvis
Breast MR
MR Angiography from head to toe
Ultrasound imaging, also called ultrasound scanning or Sonography, is a method of obtaining images from inside the human body through the use of high frequency sound waves. The sound wave echoes are recorded and displayed as a real time visual image. No radiation is involved in ultrasound imaging.
Salient features of the Department are
Equipped with 12 (twelve) modern & state of art ultrasound machines
Full gamut of services including color doppler arterial and venous studies
Complete obstetrical and gynecological ultrasound with fetal well being
Ultrasound guided interventional procedures such as biopsies and drainages
Routine abdominal/pelvic imaging
Transvaginal/Trans Rectal Ultrasound with Truss biopsy and other guided procedures, by female and male radiologists as preferred by patient
Twenty four (24) hours coverage
Mammography plays a central part in the early detection of breast cancers because it can show changes in the breast up to two (02) years before a patient or physician can feel them. Research has shown that annual mammograms above age forty (40) can lead to early detection of breast cancers, when they are curable and breast-conservation therapies are available.
Diagnostic Mammogram
Diagnostic mammography is used to evaluate a patient with abnormal clinical findings such as a breast lump or lumps that have been found by the patient or her doctor. Diagnostic mammography may also be done after an abnormal screening mammography in order to determine the cause of the area of concern on the screening exam.
Benefits of Undergoing Mammography
Imaging of the breast improves a physician's ability to detect small tumors. When cancers are small,the woman has more treatment options and a cure is more likely
The use of screening mammography increases the detection of small abnormal tissue growth confined to the milk ducts in the breast, called ductal carcinama in situ (DCIS). These early tumors cannot harm patients if they are removed at this stage and mammography is the only proven method to reliably detect these tumors.It is also useful for detecting all other types of breast cancer, including invasive ductal and invasive Lobular Cancer
Where need be mammographic studies are complimented by Ultrasound of breast
Services Offered
Screening Mammography
Diagnostic Mammography
Ductography
Needle Localization
Service is provided by dedicated female Technologists under supervision of a female Radiologist
The Department is equipped with SIEMENS Dual Head Gamma Camera using imported radiotracers and pharmaceuticals to provide safe and pathogen free diagnosis and therapies with International Quality Standards by foreign qualified staff.
The Department of Nuclear Medicine is a full-service nuclear medicine department which performs both diagnostic and therapeutic procedures.
Diagnostic Services include:
Bone Scan
Renal DMSA,DTPA, MAG-III, GFR
Brain,Salivary and Lacrimal Gland imaging
Heart:Myocardial Perfusion with Sestamibi
Lungs: V/Q (Perfusion)
Thyroids, Parathyroid, Adrenal Glands
Infection and inflammation