Rehabilitation Services
The purpose of rehabilitation is to restore some or all of the patient's physical, sensory, feeding, communication, and cognitive capabilities that were lost due to injury, illness, or disease. Rehabilitation includes assisting the patient to compensate for deficits that cannot be reversed medically and utilizing the existing capacities of the affected person.
Rehabilitation professionals also work on habilitation that is to help a child with achieving developmental skills when impairments have caused delaying or blocking of initial acquisition of the skills. Habilitation can include cognitive, social, fine motor, gross motor, or other skills that contribute to mobility, communication, and performance of activities of daily living and enhance the quality of life.
Each rehabilitation program is tailored to the individual patient's needs and can include one or more types of therapy. Family members are often actively involved in the patient's rehabilitation program.
Shifa Rehabilitation department is providing the following services;
Physical Medicine & Rehabilitation specialist
Physical Therapy Services.
Speech Pathology and Therapy Services.
Occupational Therapy Services.
Autism and Applied Behavior Analyst Services
Orthotic Care Services
Vestibular Rehabilitation services
Dysphagia (swallowing screening clinic)
Cognitive rehabilitation
Tele-therapy services
Or Dial 051 846 4646 from your Smartphone.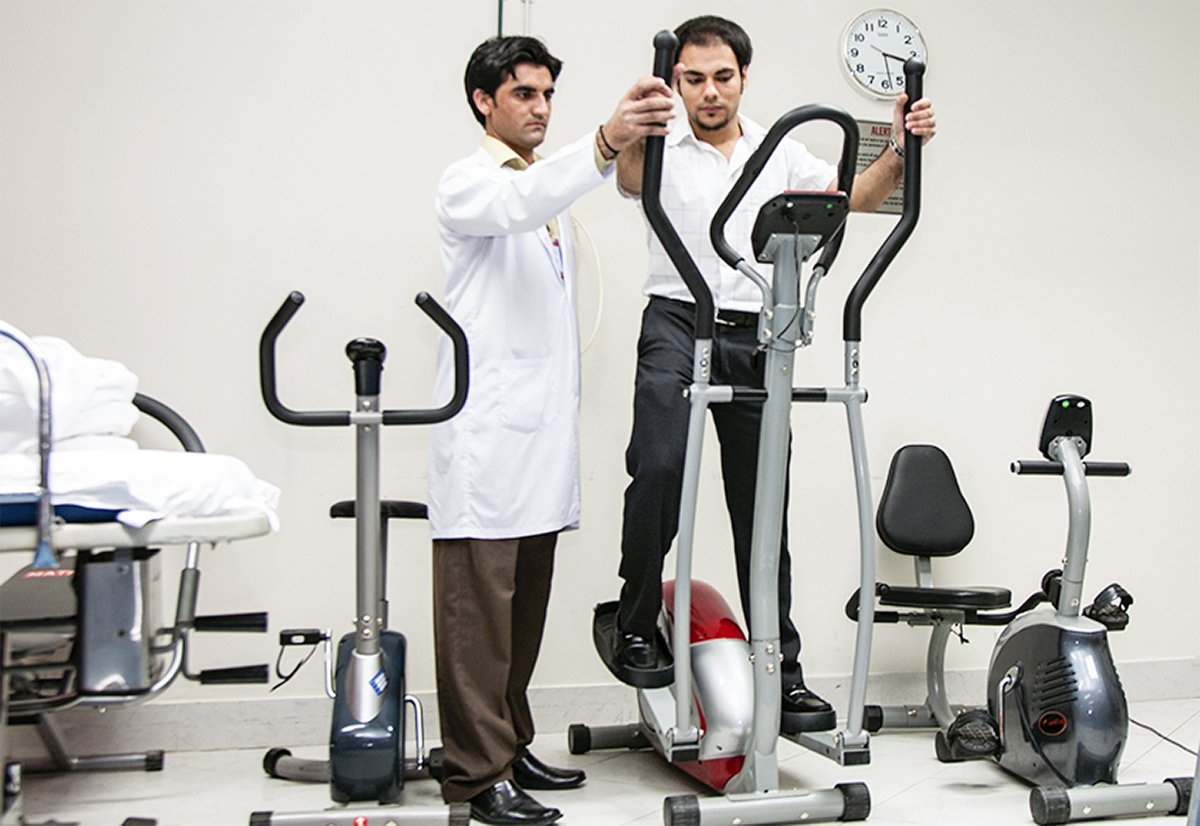 Physiotherapy at Home
Book An Appointment Today with Our Trained & Experienced Home Physiotherapists 
Shifa Department of Rehabilitation
Shifa international hospital, rehabilitation department is a trusted and established service provider since 1995. Our therapists are trained in the assessment & rehabilitation of people with developmental delays, congenital problems, acquired disabilities as well as neurological and complex disabilities. Every day, we help people improve their daily living skills, health, and wellbeing following a stroke, brain or spinal cord injury, and help those with long-term conditions like cerebral palsy, hearing impairments, Autism spectrum disorders, Parkinson's, MS, and MND manage their lives better. It's both our expertise and our passion. The Rehabilitation Department is offering a wide range of services for both outpatients and inpatients.
The rehabilitation department offers thorough assessment by qualified physical medicine and rehabilitation specialists, physiotherapists, Autism specialist, Speech pathologists/ therapists, or occupational therapists as per need and prepares treatment plans. We help our patients by settings goals and outcomes that restore and maintain optimal independence. Our Rehabilitation program is goal-oriented and outcome-focused, moreover, we are offering structured training in the following areas:
Personal care health management and education
Self-care in activities of daily living and training
Disability adjustment, physical endurance, and community integration
The rehabilitation department provides services in IPD as well as in OPD
Inpatient services
Inpatient services are used mainly for people who are recovering from a hospitalization. We are offering multidisciplinary rehabilitation services in IPD including physical therapy, swallowing and speech assessment and management, occupational therapy, and orthotics services. All assessments are performed using initial assessment forms, outcome measures are used and findings are documented in the medical records on daily basis.
Outpatient Services
Outpatient Services provided to the patients who are referred from different SIH Clinics or outside the hospital. We have initial assessment forms for different specialties and specific procedure rooms to cater to individual requirements (including sensory integration rooms, rooms with floor sitting, low bed area, a rehabilitation gym, and noise proof rooms). We have standardized assessment tools which are used for measuring improvement over time. Findings are documented in the medical records to ensure feedback to the referral sources.
Physical Therapy:
Approaches that fall within the scope of Physical Therapy practice include:
Manual therapy
Exercise & movement
Electro-physical modalities
Generic practical & technical skills
Speech Therapist & Speech pathology
Recognize, observe, and interpret signs and symptoms of potential problems in the subject's communication, cognition, and swallowing.
Deals with fluency and articulation problems
Specialize in voice disorders
Manage acquired neurological communication disorders (Dementia, dysarthria, aphasias)
Selection of augmentative alternative devices for complex progressive communication disorders
Dysphagia management (swallowing problems in Peads and adults, weaning off from tubal feeding using therapeutic interventions)
Design therapeutic plan
Educate caregivers to identify the presence of disruptions or special needs in infant's and adult's communication, cognition, feeding, and swallowing functions.
Occupational Therapist
Functional assessment based on FIM scale.
Evaluation for the need for splints, positioning devices,
Evaluation of need for home adaptation
Sensory integration therapy for ASD
Therapy to improve independence in ADL
Autism and Applied Behavior Analyst
Initial screening using standardized tools for autism spectrum disorders
Therapeutic management of behavioral issues
Specific therapies for patients with a diagnosis of ASD
Orthotic Care Service    
Assessment for the need for assistive devices
Supply of customized or prefab devices and education of patients accordingly
Measurement, impression taking, model rectification, fitting and alignment of orthosis
Postoperative management, external power, and static and dynamic alignment of sockets related to various amputation levels.
Hours of services provision
| | | |
| --- | --- | --- |
| Monday to Saturday | IPD | OPD |
| Physical therapy | 7 am till 9 pm | 8.30 am till 7 pm |
| Speech Therapy | 7 am till 7 pm | 8.30 am till 7 pm |
| Occupational therapy | 7 am till 7 pm | 8.30 am till 7 pm |
| Autism and behavior therapy | N/A | 8.30 am till 5 pm |
| Orthotics & Prosthetic  services | 8.30 am till 6 pm | 8.30 am till 6 pm |
Sunday and Gazetted Holidays only in IPD (08:30-17:00)
For appointment Contact Rehabilitation Department
051-8463088 & 051-8463853
Dr. Khaula Ashraf Chowdary
MBBS, FCPS
Associate Consultant Physical Medicine & Rehabilitation