Rehabilitation Services
Shifa International Hospital first introduced Physiotherapy services in 1995, and with the passage of time, it expanded and became one of the major departments in the hospital. Over a period of 18 years, the department grew day by day and introduced a variety of rehab services.
The Rehabilitation Department is offering a wide range of services for both outpatients and inpatients.
What is Autism?
Autism spectrum disorders (ASDs) are a group of developmental disabilities that can cause significant social, communication and behavioral challenges.
Behavior Analysis and services
Behavior analysis focuses on the principles that explain how learning takes place. Positive reinforcement is one such principle. When a behavior is followed by some sort of reward, the behavior is more likely to be repeated. Through decades of research, the field of behavior analysis has developed many techniques for increasing useful behaviors and reducing those that may cause harm or interfere with learning. Applied behavior analysis (ABA) is the use of these techniques and principles to bring about meaningful and positive change in behavior.
Occupational and sensory integration therapy services
Occupational therapy helps to ensure that a patient's independence and quality of life is promoted as much as to prevent disabilities, train physically and mentally disabled by mean of constructive activities.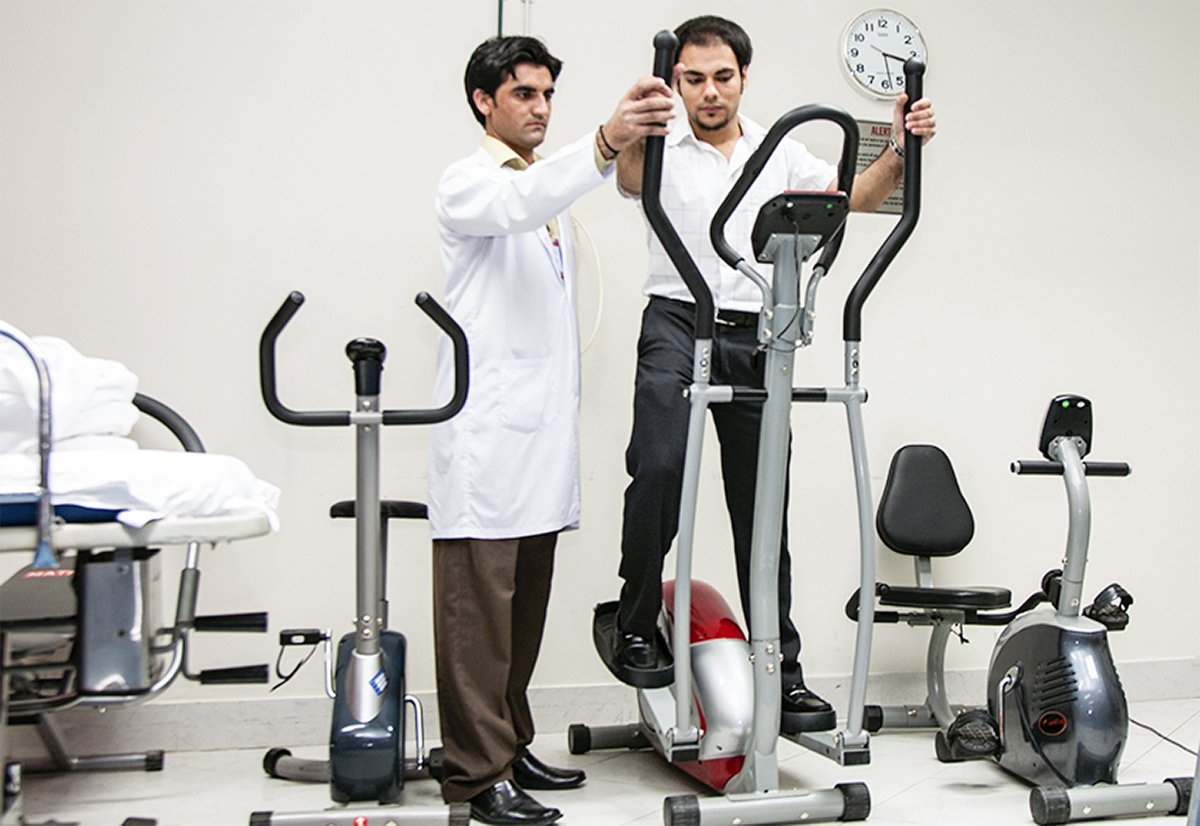 Shifa Department of Rehabilitation
Shifa International Hospital first introduced Physiotherapy services in 1995, and with the passage of time, it expanded and became one of the major departments in the hospital. Over a period of 18 years, the department grew day by day and introduced a variety of rehab services.
The Rehabilitation Department is offering a wide range of services for both outpatients and inpatients.
Shifa's Rehabilitation Clinic offers thorough Assessment by qualified physiotherapists, Speech therapists or occupational therapists and implementation of a treatment plan. We help our patients by settings them goals and outcomes that restore and maintain optimal independence. Our Rehabilitation program is goal-oriented and outcome-focused, moreover, we are offering structured training in the following areas:
Personal care health management and education
Self-care in activities of daily living and training
Disability adjustment, physical endurance, and community integration
Major Services offered by us include,
Physiotherapy Services
Cardiac Rehabilitation
Gyne Rehabilitation
Hydrotherapy
Orthopedic Rehabilitation
Neuro Rehabilitation
Pediatric Rehabilitation
Chest Physiotherapy
Pain Management
Pulmonary Rehabilitation
Geriatric And Oncology
Fitness Program
Speech Therapy & Pathology
Speech therapy helps people with communication difficulties, speech impediments, and swallowing issues. We have highly qualified trained and professional Speech therapists helps patients to cope with and overcome speech impediments and swallowing issues
Physical Medicine & Rehabilitation
Rehabilitation physicians are medical doctors who have completed training in the medical specialty of physical medicine and rehabilitation (PM&R). Specifically, rehabilitation physicians:
Diagnose and treat pain
Restore maximum function lost through injury, illness or disabling conditions
Treat the whole person, not just the problem area
Provide non-surgical treatments
Explain your medical problems and treatment/prevention plan
Orthotic Care
Facilitate patient under the supervision of qualified orthotic. The clinicians evaluate for and fit custom splints, braces, and devices that enhance the function.
An orthotic device (commonly referred to as an orthosis) is an external device applied on the body to limit motion, assists in correcting deformities, reduce axial loading, or improve the function of a certain segment of the body resulting from a muscle, skeletal or neurological disorder. In some instances it may be necessary to design and fabricate a custom orthosis for a specific biomechanical deficiency.
Our orthotic services include the following types of orthotic devices:
Cervical orthotics
Fracture bracing orthotics
Pediatrics orthotics
Lower extremity orthotics
Upper extremity orthotics
Spinal orthotics
In designing every orthotic device, special attention is paid to a lot of features. Some of these features are listed below:
Weight
Functionality
Adjustability
Durability
Material
Size
Ease of putting on and taking off the device
Aeration in order to avoid skin issues
Dr. Khaula Ashraf Chowdary
MBBS, PG Diploma in Rehab, FCPS
Associate Consultant