Administrative Fellowship Program | Shifa International Hospital
Introduction 
Shifa International Hospital is launching its first-ever fellowship program. ​​​​This Fellowship is designed to build an exclusive national network of thought leaders who will lead quality and safety transformation in their systems and beyond. Cutting-edge quality and safety content will be woven together with a strong emphasis on building leadership capabilities among Fellows through in-person learning sessions.
Safety and quality leaders will embark on a journey focused on strategic impact and leave the fellowship with a strong network of colleagues committed to innovating and influencing change within their communities and around the world.
Leadership and Mentoring
Administrative Fellow will be assigned mentors to act as advisors throughout the year. In addition, Administrative Fellows will have the opportunity to meet regularly with Dr. Zeeshan Bin Ishtiaq-Chief Medical Officer, Mr. Taimoor Shah-Chief Operating Officer, Mr. Uzair Malik-GM HR, Dr. Junaid Mustafa-Director Clinical Risk Management, Dr. Darakshan Jabeen-Director Medical Education and Director Quality-Dr Wahab Hassan. Outside of formal relationships, there will be many opportunities for Administrative Fellows to explore informal professional relationships. All members of the fellowship committee shall be available to the fellows throughout their fellowship.
Fellowship Tenure
The Shifa Hospital Administrative Fellowship Program is composed of ongoing classes which focus on providing fellows project-based work, shadowing opportunities with department leaders, and networking opportunities. The fellowship will begin from the month of August 2021 and will last till August 2022 spanning a period of 12 months.  The course year will be divided into five Modules delivered over a period of 12 months. 
Module 1

1 Week

Module 2

4 Months

Module 3

3 Months

Module 4

3 Months

Module 5

2 Months

LEADERSHIP

QUALITY IN HEALTH CARE

QUALITY IMPROVEMENT & SAFETY

DEVELOPING HUMAN AND ORGANIZATIONAL POTENTIAL IN HEALTH CARE

Finance & Diagnosis Related Groups

CLINICAL TEAM DEVELOPMENT IN HEALTH CARE ORGANIZATION

DIAGNOSTICS-INCLUDING LAB AND RADIOLOGY

STRATEGIES AND INNOVATION IN HEALTH CARE FUNCTION
Who is this for:
This program is designed to create leaders. If you want to pursue a career in healthcare management, then this is the perfect course for you. As a participant in this course, you will be rotated in each department where you will get a firsthand experience of its operational functions and the leadership role in managing day-to-day challenges. 
Program Outcomes
At the end of the 1-year course participants will be able to:
Attain a leadership position for managing healthcare systems

Acquire core administrative and technical skills for the smooth running of a health care system
Faculty
A team of highly qualified experts from each unit will be involved in the teaching of their respective units. For more details on faculty click here
Instructional Strategies
Diverse instructional strategies will be used in this program. Instructional strategies are tailored according to the content of the unit.  Some of the instructional strategies include:
Large group interactive lectures

Presentations

Hands-on experience

Small group discussions

Real-time rounds for operations

Discussion portals on LMS
Learning Resources and assessments will be uploaded on Moodle (LMS).

Extensive Opportunities will be provided to learners to observe system-level executives at meetings and retreats throughout the fellowship program
Intake Criteria
How to Apply
The Shifa International Hospital Administrative Fellowship is intended for post-graduates of MBBS/BDS/Nursing/MBA and other management domains. Candidates should be motivated and self-starting, adaptive to change, and possess excellent analytic and communication skills. Prior to starting the fellowship program in July, interested applicants must have a master's degree from an accredited university in:
MBBS

Public Health (MPH)

Business Administration (MBA)

Or other related master's degree program
Required Application Materials
Nomination

from Department Head
Entry Test
Interview
Entry Test
For all nominations received by departmental heads, they will be made to sit in an exam. The exam will constitute a mix of questions from operations, healthcare management, quality, and problem-solving. After the written (MCQ) test, the participants shall give a psychometric test for a better understanding of their leadership aptitude. 
First Round Interviews
After a thorough review of all entry tests, we will notify all applicants who have been chosen for an interview. First-round interviews may be conducted via phone or video conference.
Selection of Administrative Fellows
Offers may be made earlier than the decision deadline, and applicants can choose to accept, decline, or hold the offer until the decision deadline.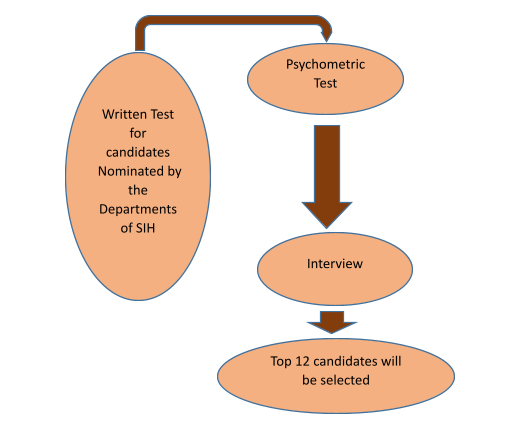 Note: If two candidates from the same department qualify according to the admission criteria, the decision of the candidate to be enrolled in this program will be taken by the admission committee. 
Exit Criteria
Exit Criteria includes the following
50% score in assessments of each unit

Exit Interview 
| | |
| --- | --- |
| Completion of Program | Percentage to be added in the final report |
| Assessments of each Unit  | 90% |
| Exit Interview  | 10 % |
Who Can Apply
Employees of Shifa International Hospital, aspiring to work in leadership positions can write to SIH fellowship team at fellowship@shifa.com.pk
Contact US
0518464300 or write to