Cardiology
The field of cardiology deals with diseases, abnormalities, and disorders of the human cardiovascular system (heart and blood vessels). Cardiologists & Cardiovascular surgeons are professionals who specialize in the diagnosis and treatment of conditions such as coronary artery disease, valvular heart disease, angina pectoris, heart failure, congenital heart defects, electrophysiology of the heart, etc.  Cardiovascular diseases (CVDs) are among the leading causes of sudden death and persistent health risks for the Pakistani population. However, the emergence of advanced techniques, innovative devices, and procedures for diagnosing and treating heart conditions has led to new and effective treatment options for those suffering from complex heart conditions.
Or Dial 051 846 4646 from your Smartphone.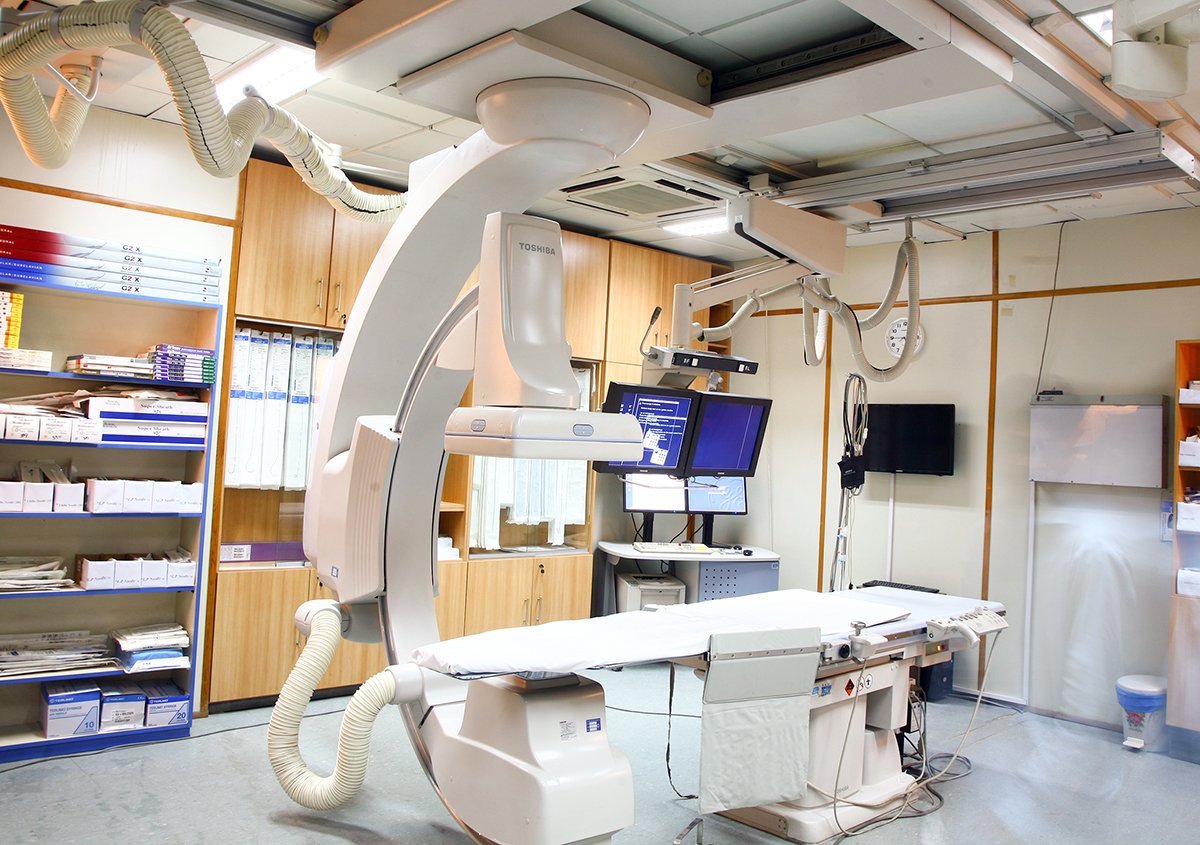 Shifa Heart & Vascular Centre
Shifa Heart & Vascular Center provides the most advanced and comprehensive care for cardiac, vascular, and pulmonary problems in Pakistan. A full-time, devoted team of experienced Cardiologists, Cardiac surgeons, Anesthetists, OR & Cath Lab Technicians, Nurses, and Pharmacists work together to provide integrated & individualized care to every patient. The department offers a wide range of clinical services as well as diagnostic, therapeutic, and rehabilitation facilities for the patients. It started off between the years 1994-1998; marking a milestone in the history of Shifa International Hospital as a Cardiac Catheterization Lab and Heart Bypass Services were established. Shifa Emergency services are also contributing by reducing fatality risk significantly in heart attack/ chest pain patients with timely, quality, 24/7 emergency care.
A complete heart care facility offering comprehensive diagnostic and treatment facilities under one roof 
Qualified & Board Certified team of Cardiologists and Cardiac Surgeons
24-hour availability of an expert Cardiologist for Heart Emergencies (Heart Attack/ Chest pain)
Fast track emergency care & admission to stay at CCU (Cardiac Care Unit)
24/7 support for Angiography, Angioplasty & Cardiac surgeries
State-of-the-art Cath labs & CCU (Cardiac Care Unit) facility
Treatment of complex heart conditions, i.e., valvular heart diseases, etc. by catheter-based techniques (Mitra Clip, TAVI, etc.)
Rotablation Angioplasty (suitable option for high-risk patients)
Latest (640 slices) CT-Angio machine for accurate and timely diagnosis
Electrophysiology & Pacing clinic
Pediatric Cardiology clinic
Cardiovascular & Thoracic surgery clinic
With all these facilities we have a team of the best Cardiologists in Islamabad making us a Cardiology Hospital that is ready to facilitate at best. 
Experienced Team

Highly qualified, internationally experienced & Board certified team of Cardiologists & qualified Cardiac Surgeons, supported by a team of dedicated & skilled paramedical staff.
24 Hour Emergency Services

A well-supervised facility to cater to heart emergencies (24 hours) for heart attack and chest pain patients. A Cardiologist & Cardiac Surgeon remain available on-call to provide 24/7 support for angiography, angioplasty, and cardiac surgery.
Complete Diagnostic & Imaging Services

Comprehensive services for reliable diagnosis and treatment of diseases, i.e., CT-Angio, Echocardiogram (Echo), Stress Testing (ETT), Coronary Angiography, Cardiac MRI, Pathology Laboratory, Nuclear Imaging Services, etc.
Cardiac Care Unit (CCU)

Shifa Cardiac Care Unit (CCU) is a 17-bed facility that is supported by a team of experienced cardiologists, cardiology fellows, attending physicians, nurses, and paramedical staff care and monitoring of patients with acute myocardial infarction, angina, congestive heart failure, cardiomyopathies, valvular heart disease, and life-threatening arrhythmias, etc.
Electrophysiology & Pacing Clinic

The clinic offers a wide range of electrophysiology, mapping, and ablation procedures to patients with Atrial Fibrillation & other abnormal heart rhythm problems under the supervision of Pakistan's leading Consultant Cardiologist & Electrophysiologist. Other services include:
Remote monitoring of devices
24 hour Holter monitor
Pacemaker and cardiac defibrillator (ICD) devices
Biventricular pacemakers
Pediatric Cardiology Clinic

Pediatric Cardiology clinic runs under the supervision of trained and internationally experienced Cardiologists. The clinic offers comprehensive facilities to diagnose and treat a variety of congenital (present at birth) and acquired heart diseases in infants and children.
Cardiac Rehabilitation Program

Comprehensive Cardiac Rehabilitation program for post-surgery/ procedure care.
Cardiovascular & Thoracic Surgery Clinic

Experienced team of Surgeons and latest Operation Theater facilities to perform a wide range of Cardiac, Vascular & Thoracic Surgeries.
Cardiac Catheterization Lab (Cath Lab)

The Cardiac Catheterization laboratories at Shifa are modern and high-tech facilities to offer a wide range of services. The Cath Lab setup covers facilities for undertaking noninvasive and invasive cardiac investigations including coronary angiography and angioplasty, insertion and testing of implantable devices (including pacemakers), EP studies, Catheter Ablation, etc.
Transcatheter Aortic Valve Implantation (TAVI)
This minimally invasive surgical procedure repairs the valve without removing the old, damaged valve. Instead, it wedges a replacement valve into the aortic valve's place.
TAVI has emerged as a major breakthrough in the field of interventional cardiology and now recognized as an alternative for selected patients with severe aortic stenosis (AS), particularly for those patients who are considered an intermediate or high-risk patient for standard valve replacement surgery, who otherwise have limited choices for repair of their aortic valve.
Mitral Valve Clip
A mitral valve clip repairs the damaged mitral valve without the need for open-heart surgery. A small metal clip, about the size of a large staple, is attached to the patient's mitral valve via a vein in the leg. The clip stays there permanently and helps your valve to function properly again.
Rotablation Angioplasty
Rotablation represents an addition to the standard Angioplasty procedure. While a standard Angioplasty procedure is limited to the use of balloons and stents, Rotablation also uses a tiny drill, powered by compressed air, to remove calcified deposits. Rotablation is usually followed by balloon angioplasty and the implantation of one or more stents.
Cardiac Imaging:
Cardiac imaging includes the modalities of computed tomography (CT), cardiac ultrasound (echocardiography), magnetic resonance imaging (MRI), nuclear imaging, fluoroscopy, CT-Angio.
Other Diagnostic and Therapeutic Procedures
Computerized ECG
Exercise Tolerance Test(ETT)
24 Hours ECG (Holter Monitoring)
2D, M Mode, Color Doppler Transthoracic Echo
Transesophageal Echo
Dobutamine Stress Echo
Carotid Doppler Scan
Peripheral Arterial and Venous Doppler
Temporary Pacemaker Implantation
Permanent Pacemaker Implantation (single + dual chamber)
Peripheral / Renal Angiography
Pulmonary Angiography
Carotid Angiography
Coronary Angiography
PTCA with Stent Implantation (Percutaneous Coronary Angioplasty)
Temporary and Permanent Pacemaker Implantation (Single, Double chamber)
A full range of Echocardiography services are available for accurate diagnosis and appropriate treatment
Transthoracic Echocardiography Transesophageal Echocardiography
Dobutamine Stress Echocardiography
Peripheral and carotid Doppler Studies
Exercise Tolerance Test (ETT)