Pediatrics
Pediatrics is a branch of medicine that deals with the medical care of patients from a younger age group such as infants, children, and adolescents. Pediatricians are the primary care physicians for children who specialize in the diagnosis and treatment of children-related diseases and medical conditions.
Child health is always a delicate matter, as children require special care from the beginning to strengthen their immune system and develop resistance against common diseases. This necessitates constant supervision under certified doctors to ensure the correct treatment is given.
Or Dial 051 846 4646 from your Smartphone.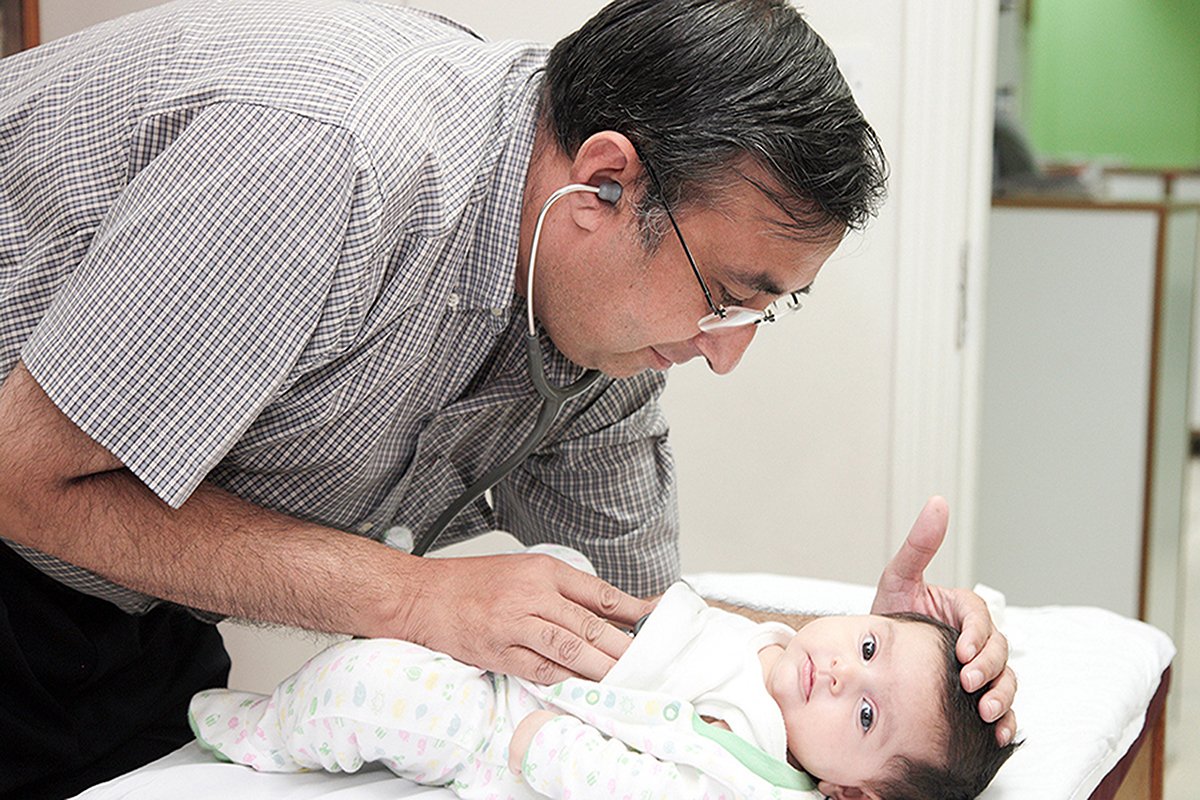 Shifa Department of Pediatrics
Shifa Pediatrics Department has a variety of on-site health-related services for children, offering extraordinary dedication and expertise in a friendly environment. The department treats patients whose conditions vary from simple allergies to complex medical issues that require surgery.
The Neonatal Intensive Care Unit (NICU) at Shifa International hospital provides care to premature babies and other critically ill infants. A team of emergency surgeons is always prepared to perform Pediatric/Neonatal procedures and other on-site procedures.
Outpatient, inpatient, neonatal intensive care, and pediatric intensive care
Sub-specialty services in the disciplines of pediatric gastroenterology and liver transplant, pediatric nephrology, urology, and renal transplant, pediatric hematology/ oncology, and bone marrow transplant
Primary care including routine check-up for the newborn, vaccination development assessment, and treatment of common childhood illnesses
Pediatric emergency services (24 x 7)
Pakistan's leading Liver Transplant center for living donor pediatric liver transplants
Gastroenterology: Fully equipped in treating neonatal and adolescent patients, our Gastroenterologists are internationally accredited medical professionals
Pediatric Nephrology: Our Nephrologists understand the delicate nature of children and bring both training and field experience to children's kidney-related issues
Urology and Renal Transplant: SIH is proud of its successful record of kidney transplants and treatment of the diseases of the urinary tract, many of which include pediatric cases
Pediatric Intensive Care Unit: Our state-of-the-art pediatric intensive care unit houses highly trained staff, equipped with the latest generation of technology for taking care of neonatal and adolescent cases
Pediatric Hematology/Oncology: A common issue among pediatric patients, our hematology-oncology specialists are swift in diagnosing and treating blood-related diseases
Bone Marrow Transplant: Shifa International successfully conducts complex bone marrow transplant procedure for young patients at the facility
Orthopedics: Internationally acclaimed, our pediatric orthopedic specialists understand the delicate state of the growing pediatric musculoskeletal structure
Psychiatry: Shifa International psychiatrists are separately trained for understanding and dealing with child psychiatry and are hence experts in resolving even the toughest of pediatric mental conditions
Eye Specialists: Our eye specialists treat eyesight in children as a sub-specialty, using the most advanced methods to diagnose and treat medical conditions related to eyes
Ears, Nose, and Throat (ENT): Diseases and medical conditions of ear, nose, and throat in children are interlinked. SIH has been overseeing pediatric ETN problems since 1993
Dermatology: Children have delicate skins that are susceptible to injury, scarring, and allergic reactions. Our dermatologists understand these elements and utilize their expert knowledge for dispensing the best possible treatment
Cardiology: Shifa International has a decorated team of cardiologists keen on diagnosing and treating each case with dedication
Childcare Facilities: Ranging from consultancy and diet plans to medical checkups and therapeutic treatments, our childcare facilities are both diverse and comprehensive
Vaccinations: We provide vaccinations for neonatal and adolescent patients
Children undergoing surgeries are a delicate matter for both the patients' health and family members' emotions. With us at the forefront of dealing with all types of medical complications encountered by any neonatal or adolescent patient, you can rest easy knowing your loved ones are in the care of the finest in pediatric surgeons. Our pediatric surgeries include:
Surgical corrections for physical hereditary defects
Cleft Lip Repair
Cleft Palate Repair
Surgical Correction for Tongue-Tie
Hernia Operation
The Full Range of Abdominal Surgeries
Surgical Correction for Undescended Testes
Hypospadias Repair
Both Major and Minor Surgeries for children
Dr. Rehana Sayeed
M.D., Diplomate American Board of Pediatrics (USA)
Consultant Pediatrics
Dr. Musarrat Hussain
M.D.,FAAP (USA), DCH (Dublin)
Diplomate American Board of Pediatrics (USA)
Consultant Child Specialist and Pediatric Nephrologist
Prof. Dr. Munir Iqbal Malik
MBBS (KE), M.D. (USA)
Diplomate American Board of Pediatrics
Professor of Pediatrics Shifa College of Medicine
Consultant Pediatrics and Ped. GI.
Dr. Yawar Najam
DCH, MRCP (Ireland)
Dip. Mgt. (Health Services)
Specialist in Newborn Medicine
Consultant Child Specialist & Neonatologist
Dr. Mazhar Hussain Raja
MBBS, DCH, MRCP (UK), FRCPCH
Assistant Professor of Pediatrics
Consultant Pediatrician (Special Interest in Neonatology)
Prof. Ejaz A. Khan
Diplomate American Board of Pediatrics
Diplomate American Board of Pediatric Infectious Diseases
Professor (SCM), Chief of Pediatrics (SIH)
Consultant Pediatrician
Dr. Sahira Aaraj
MBBS, FCPS
Consultant Pediatrician
Dr. Shahid Nazir
MBBS, M.D., FAAP (USA)
Diplomate American Board of Pediatrics
Consultant Neonatologist
Dr. Shehla Chaudhry
MBBS, MCPS, FCPS
Consultant Pediatrics
Dr. Yasser Masood
MBBS(KE) MCPS, FCPS, MRCPCH , FRCPCH , CCT UK
Consultant Pediatrician
Dr. Salman Bashir Wani
MBBS, MRCPCH, FRCPCH, MSc. Child Health
Consultant Pediatrician