Shifa Clinical Research Center
Vision
Shifa Clinical Research Center envisions leading national and global collaborative efforts in clinical research, aiming for creation of beneficial knowledge ("IlmanNafian") translating into healing (Shifa) for humanity.
Mission
The Shifa Clinical Research Center has set as its mission, facilitating an ethical, scientific and collaborative journey of reflection, inquiry, discovery and innovation
Why Clinical Research?
The Hallmark of Academic Centers is a triangulation of patient care, education and research. Pakistan with a population of nearly 180 million is the sixth most populous nation in the world, but its medical research productivity continues to significantly lag behind international benchmarks. A plenary session paper presented at the First International Conference on Evidence Based HealthCare  revealed that compared with an average of four Canadian physicians represented by  a peer-reviewed PubMed listed publication, an estimated 95 Pakistani physicians on the average produced one PubMed listed peer-reviewed manuscript in 2011(ref:Quadri,KHM, EBHC, New Delhi, 2012).Our National health indicators such as infant and maternal mortality rates are some of the poorest in the world.(ref. WHO).
Translational research drives the evolution of new drugs and devices from in-vitro and bench studies through animal studies and Phase 1-1V trials and impacts quality and longevity of life and ultimately the health and productivity of communities and nations. This journey of discovery and innovation is rapidly transforming the concept of Personalized Medicine into a core 21st century reality and a key patient expectation. From genome wide association studies leading to disease prediction and prevention , genomics, proteomics and metabolomics now drives pharmacogenomics, incorporating targeted drugs and biologics development and  delivery .Regenerative Medicine leading to synthesis of tissues and organ systems has  responded to challenges in organ transplantation and immune tolerance.  Innovations in biomedically engineered devices, simulations  and robotic Medicine have been translated into minimally invasive, previously unchartered highly precise and safer curative or ablative interventions.
Shifa International Hospital and the component faculties of ShifaTameer-e-Millat University Health Sciences, represented by Shifa Colleges of Medicine, Nursing, Pharmacy, Biotechnology and Physical Therapy located in the serene and lush green environment abetting the Margalla Hills leading into the Karakorum mountain range, have made a remarkable impact in healthcare quality ,  delivery and academic  curricula development and training within a short span of the past two decades . This impact has been nationally and internationally recognized.
Shifa International Hospital started as a private quality driven , healthcare facility in 1993. Academic Medicine took its roots in 1998 with the stepwise opening of the now reputable, Shifa College of Medicine and  Shifa College of Nursing.  Shifa International Hospital Postgraduate Medical Education department currently offers eighteen fully accredited and competitive Residency and Fellowship programs leading to FCPS certification . We are thus consciously and responsibly shaping the future human workforce that shall continue to serve Pakistan and International healthcare needs.
Although Shifa has had a robust Institutional Review Board for the past fifteen years and a number of high quality articles have been published in high impact factor journals, representing both bench and clinical work in addition to medical education research, the healthcare leadership role has now made it incumbent upon Shifa to accelerate its progress and to benchmark likewise with leading international academic centers in T1 and T2 translational research and to step in to fill the significant national void.
Simultaneously, we are embarking upon a mission to establish a custom built clinical trials unit and  a state of the art research tower, housing at the ground floor level,  Shifa Community HealthOutcomes Research Unit ( SCHORU) with Epidemiology, Biostatistics, Evidence Based Health Care and Bioethics divisions
Our endeavor is to invest in capacity building for conducting high quality trials ,  well recognized as the major impediment to  centers worldwide,  stepping in to and assuming partnership roles, opening up due to 'globalization' of clinical trials .
The second floor shall be a dedicated Shifa Metabolic Medicine Research unit (SMMRU)offering a day metabolic bay, body fluid sample processing labs,  a pharmacy storage and refrigeration  area for investigationals drugs, flowcytometry and gas chromatography and HPLC.
The third floor shall be a Shifa Simulation /Device innovation/Robotics and Regenerative Medicine unit(SSDRRMU). It shall additionally house computational cell biology, physiological Medicine, computational molecular Medicine, Biologic fluid dynamics modeling  in addition to data modeling.
The fourth floor shall house Shifa Translational Science unit (STSU) housing Bioinformatics, Biosafety Level 2/3 lab, Omics lab(genonomics, proteomics, metabolomics), cell culture lab, cord blood and stem cell core facility, real-time PCR and microscopy.
The fifth floor shall house the Shifa Global Clinical Trials Collaborative Unit(SGCTCU). This shall offer site offices to partners in collaborative research  projects from both Investigator initiated international sites, Universities and health care  facilities, industry, Contract research organizations on a time-limited or long term agreements. The goal is to promote cost-effective  global multicenter trials and scholarship in research and to entranch Pakistan as a leading international hub of translational research.
A separate offsite agreement with Institutes of Veterinary Sciences for medium and large size Animal lab based research is envisaged for preclinical studies
SCRC Team
Dr. Mian Amjad Sohail
Director Shifa Clinical Research Centre
M.B.B.S., M.D, (USA), Dip Card, (UK)
Diplomate American Board of Internal Medicine
Director Medical Services & Consultant Physician
Dr. Sumeyya Azam
Senior Clinical Research Associate
MBBS, Master of Surgery (MS) in Obstetrics and Gynecology
ICH-GCP Certified
Good Documentation Practices (GDP) Certified
(ShaukatKhanum Memorial Cancer Hospital and Research Centre)
Dr. Kholood Janjua
Clinical Research Associate
Pharm. D. ICH- GCP Certified
MS (Bio-Medical Sciences)
Mehwish Rafique
Biostatistician
M.SC Statistics
Amna Arshad
Assistant Clinical Research Associate
Pharm. D, MS in Public Health
Waqas Haider
Research Coordinator
Bs(Hons) Economics
M.Phil Environmental Economics
Public Education

WHERE GOOD IDEAS COME FROM by Steven Johnson

What are clinical trials
Welcome to Shifa Clinical Research Center (SCRC)! We are located on D4 of Shifa International Hospital, H-8 Islamabad. The primary goal of our research center is to house collaborative health research and clinical trials for the advancement of medical science. To learn more about SCRC, kindly navigate through our website. We welcome your suggestions and feedback.
Guidelines for participants:
Clinical research is health or biomedical research that enrolls human subjects. The study takes place in a clinical setup and follows health research guidelines. In a clinical study, a study candidate is evaluated on the basis of type and severity/status of diseases and then enrolled in the relevant clinical study by the clinical research coordinator. One other method of getting enrolled in a clinical study is that the participants complete the questionnaire compiled by the investigator, may give blood sample but the criteria varies with nature of study. Sometimes health volunteers may be enrolled in what are known as Phase 1 and Phase 11 trials
The participant of a clinical trial/study plays a pivotal role in the study. By participating in the clinical trial, the participant can avail the novel therapeutic options which are not available as other established therapeutic options. It does not always come with a promise of success but the participants participation is beneficial not only to oneself but to the benefit of humanity by helping advance medical research. Advancement in clinical research is a collaborative effort of participants and research team.
If you want to participate in our clinical trials or have any questions, kindly contact our senior clinical research associate Dr Ammad Fahim or mail to scrc@shifa.com.pk
Collaborators
Introduction to the Principles and Practice of Clinical Research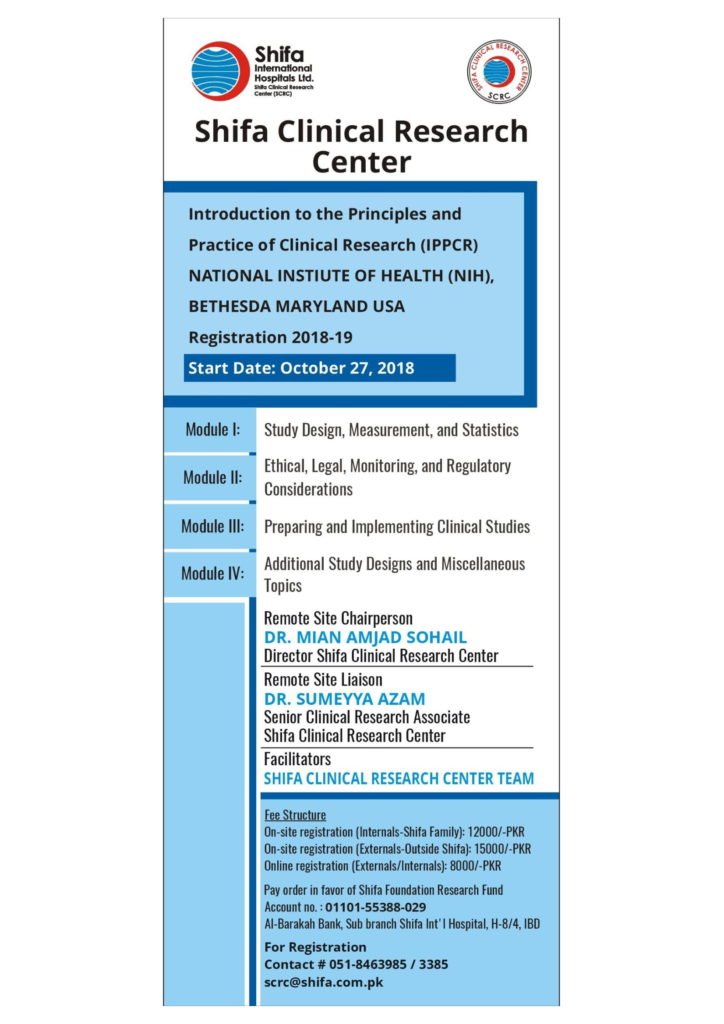 Useful Links
Shifa Clinical Research Center 
Ground Foor A Block Shifa International Hospitals Ltd.
PitrasBukhari Road H-8/4, Islamabad – Pakistan
Telephone: 
+92 – 51- 846 -3984, +92 – 51- 846 -3985, +92 – 51- 846 -3385
Email:
scrc@shifa.com.pk