Director Research Message 
Shifa Clinical Research Center is an affiliate of Shifa International, with a 500 bed JCI accredited Hospital, e-Shifa, Shifa Tameer-e-Millat University, Shifa College of Medicine, and Shifa Schools for Nursing & Pharmacology. SCRC is the sole regulatory and monitoring body for all clinical research at Shifa International Hospitals Ltd.
SCRC ensures the 4 pillars of any Clinical Trials Unit:
1. ROBUST TEAM of Principal and Sub-investigators, Clinical Research Associates (CRAs), Physicians, Biostatisticians, Data Managers, and Coordinators
2. TRACK RECORD of enrolling thousands of patients in numerous multi-center clinical trials across the globe
3. QUALITY ASSURANCE guided by Joint Commission, Good Clinical Practice principles to ensure ethical, transparent, and seamless execution of benchmarks
4. VIABILITY of clinical research as a defining facet of who we are as an organization with leadership committed to the advancement of healthcare.
Collaboration is the name of the game in clinical research and we offer a unique platform in this region unrivaled in bringing the pieces together for meaningful research that changes clinical practice and opens undiscovered avenues.
SCRC is a one-stop shop from study feasibility, identifying PI, forming a team, IRB presentation, Clinical Trial negotiation and agreement, enrolment, follow-up, and sorting out AEs until the trial is completed.
Our Profile below is a testament to our endeavors.
Sincerely,
Dr. Muhammad Ayaz Mir, FACP
Diplomate American Board of Medicine & Hematology
Director, SCRC
pakistanbmt@gmail.com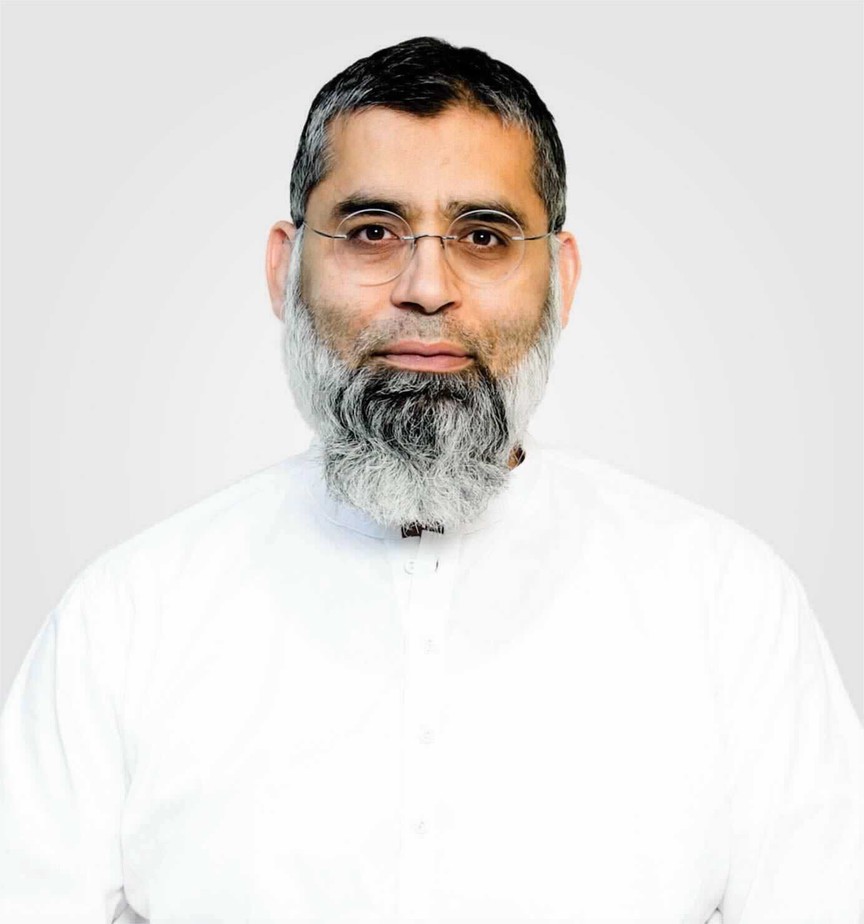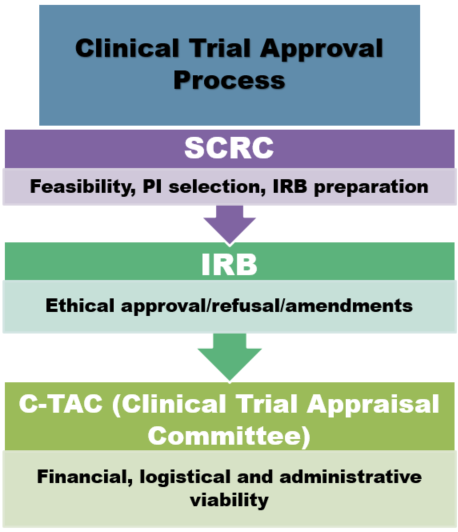 Members Ethics Committee:
| | |
| --- | --- |
| Name | Specialty |
| Dr. Ejaz A. Khan (Chairman) | Infectious diseases and Pediatrics |
| Dr.M.Ali Afridi (V.Chairman) | Radiation oncology |
| Dr. M. Ashraf | Anatomy (SCM ) |
| Dr. Arslan Ahmed | Neurology |
| Dr. Abdus-Salam Khan | Emergency Medicine |
| Dr. Saima Iqbal | Community Medicine (SCM) |
| Dr. Jawad Hassan | Member from community |
| Dr. Ayaz Mir | Hematology & Director SCRC |
| Dr. Sagheer Ahmad | Pharmacy (STMU) |
| Dr. Nazia Mumtaz | Member from community |
| Dr. Tahir Aziz | Immunology |
| Dr. Osama Ishtiaque | Endocrinology |
| Dr. Ilyas Shakir | Gastroenterology |
| Mr. Muhammad Javaid | Islamic Center SIH |
Clinical Trials
TRIALS NAME
SPONSOR
STATUS
1-HALT-IT: Hemorrhage alleviation with the tranexamic acid-intestinal system, Tranexamic acid of the treatment of gastrointestinal bleeding: An International randomized, double-blind placebo-controlled trial.
London School of Hygiene and Tropical Medicine, UK)

Completed

Published in Trials

2-CRASH-3: Effects of tranexamic acid on death, disability, vascular occlusive events and other morbidities in patients with acute traumatic brain injury (CRASH-3): a randomized, placebo-controlled trial
London School of Hygiene and Tropical Medicine, UK)

Completed

Published in The Lancet

3-HIP ATTACK 1: Accelerated surgery versus standard care in hip fracture an international, randomized, controlled trial
Sponsors: Population Health Research Institute, McMaster University, Canada

Completed

Published in The Lancet                                                                                               

4-SafeHer Study: A phase-3 Prospective, two-cohort nonrandomized Multicenter, Multinational, open-label study to assess the safety of assisted- and self-administered subcutaneous Trastuzumab as therapy in patients with operable her2-positive early breast cancer
 Roche pharma Basel Switzerland
Completed
5-PERUSE Study: A phase iii perspective, two-cohort non-randomized, Multicenter, Multinational, open-label single-arm study of pertuzumab in a combination of as THERAPY in patients with operable Her2-positive early breast cancer
 Roche pharma Basel Switzerland
Completed
6-POISE-3 Perioperative Ischemic Evaluation-3
Population Health Research Institute, Hamilton, Canada
Completed
7-COP-AF: Colchicine For The Prevention Of Perioperative Atrial Fibrillation In Patients Undergoing Thoracic Surgery
Population Health Research Institute, Hamilton, Canada
In Progress
8-WHO-SOLIDARITY: An International Randomized Trial of Additional Treatments for COVID-19 in Hospitalized Patients Who Are All Receiving the Local Standard of Care
World Health Organization
In Progress
9-Can Sino: Phase III Trial A global multicenter, randomized, double-blind. placebo-controlled, adaptive designed phase III Clinical trial to evaluate the efficacy, safety, and immunogenicity of Recombinant Novel Coronavirus Vaccine (Adenovirus Type 5 Vector) in adults 18 years of age and older
Beijing Institute of Biotechnology
In Progress
10- Livzon Trial: Global Phase 3 Randomized Trial to evaluate the efficacy, safety, the immunogenicity of Recombinant SARS COV-2 fusion protein vaccine against COVID 19 in healthy adults after vaccination of 2 doses of inactivated vaccines
Livzon Mabpharm Inc
In Progress