eShifa – Home Health Services
Quality Healthcare at your Doorstep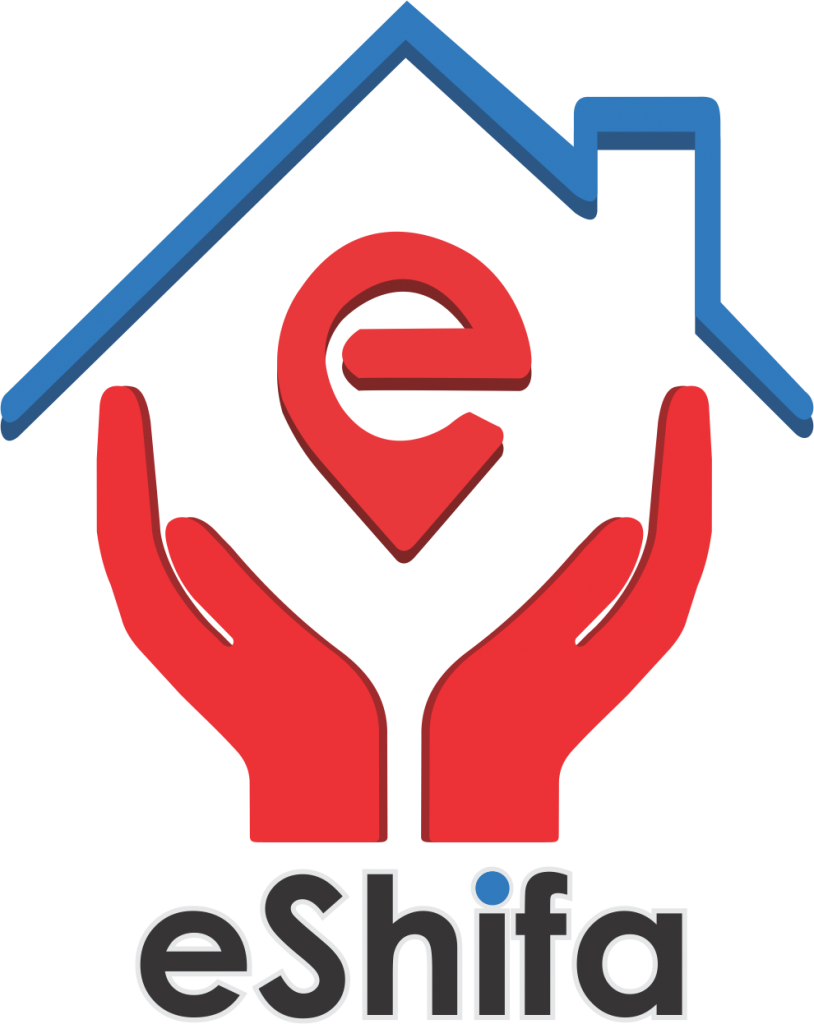 Convenience & Trust Whenever You Need It!
Pakistan's Leading Healthcare provider aims to enhance your healthcare experience by offering greater and smarter home health services. eShifa Home Health Services are staffed by expert clinicians & paramedics, backed by international quality and service standards. We offer smart home health care solutions designed for the ease and accessibility of our patients including Online Consultations (Tele Clinics/ Online Doctor), Home Medicine Delivery, Home Nursing, Home Physiotherapy, Home Lab Services and many more to heighten your healthcare experience with us.
There are three ways to avail our services:
1. Via eShifa App (Available at Google Play Store)
2. By calling our Helpline: 051-8464646 or UAN: 051-111-274-432
3. From our Inpatient (IPD) or Outpatient (OPD) Clinics
Technology meets healthcare at Shifa
Technology has the potential to greatly improve the way we provide medical care. By integrating technology-based solutions in home health services, we make it possible for every person to get access to quality healthcare services that are on par with hospital-level care. Through eShifa Home Health Services you can get easy access to experienced medical professionals from the comfort of your home, workplace, or any other place. All you need is an internet connection and a smartphone.
Benefits
Home Health Services provided at patient's doorstep
Reduced traveling cost for the patients
With our Home Health Services there's no hassle, no long queues and no more waiting
Less risk of hospital acquired infections
Tracking through a Mobile App and delivery of results via App or via SMS
Management of patient's database which can be assessed from anywhere in the world
Medical Assistance can be availed with phone call or a click
Home Health Services are convenient medical care options for the elderly, frail & housebound patients
Shifa Tele Clinics
Why wait to see a doctor? You don't have to cover long distances in worry. Phone a doctor from the comfort of your home with Tele Clinics (Teleconsultation Services). You can avail special 30% discount on regular consultation fee
We are currently offering three types of telehealth consultation models.
· Online Appointment (with Shifa Consultants and GP): A type of online doctor consultation where patients book video or audio consultation via helpline or mobile app.
· Hybrid Appointment: In this model, one of our health care providers such as nursing staff or physiotherapist attend patient on behalf of doctor and carry out focused but limited assessment. Then a doctor can carry out assessment online/ virtually to make a shared management plan.
· Home visit: Last but not the least our doctors can attend patient at home in certain circumstances such as palliative care or house bound patient.
For more information please visit https://www.shifa.com.pk/eshifa-teleconsultation-services/
Get in-touch with a Medical Consultant today; For Details Call: 051 846 4646
Home Nursing Services
Home nursing services encompasses a wide range of home healthcare services that can be easily administered at your home. A home nursing care service offers personalized nursing care as offered in a typical hospital while being more compassionate towards the patient and gets integrated into the patient's family.
The patient care services offered by home care nursing are provided by registered nurses, physiotherapists and occupational therapists among others.
Services
Vaccination: Get vaccinated at home and stay safe from infectious diseases. We provide vaccination for H1N1, Typhoid, Pneumonia, Hepatitis and more by qualified nurses at home.
Post-surgical Care is critical and includes everything from pain management & feeding to respiratory management & fluid management. Get well sooner under the care of our nurses, who will help you with all of this in the comfort of your home.
IV Cannulation & Infusion/ Injections: Save yourself the trouble of travel and long hospital hour for a minor process like injection administration or IV cannulation or infusion. Just book with us a home nurse and an experienced and registered nurse will come visit you at home to administer the required injection or IV infusion.
Wound Care & Dressing: Did you know that the healing process varies depending on the wound type? Our nurses are experienced in handling varied types of wounds-post-operation surgical wounds, infected wounds and pressure sores and will accordingly provide appropriate wound care for a faster recovery.
Urinary Catheterization Care: Our nurses are well trained and can help you with the process of Urine catheterization care at your home; be it catheter insertion, catheter removal or bladder wash
General Nursing Assessment: For your general check-up such as diabetic care, BP or asthma care and assessment, our trained nursing staff can attend you.
FAQs (Frequently Asked Questions)
Q : What are the things that an eShifa nurse would do?
A : eShifa's trained nurse can assist you with post-surgical care, Urine catheterization, Suture removal, Wound care, Injections, , IV infusion and more.
Q : How often a nurse will visit me?
A : The frequency of nursing visits varies depending on the patient's needs and treatment plan.
Q : How qualified are nurses from eShifa?
A : All eShifa nurses are professionally trained and certified.
Home Lab Sample Collection
Our trained and qualified phlebotomist staff implements proper specimen collection protocols for collecting, labeling, handling, storing, and transporting lab samples to the hospital laboratory. As per your requirement, our team collects lab samples from your home or office at any time convenient to you. Your lab reports will be available to you via eShifa mobile App.
Timings: 7:00 am to 10:00 pm
Why Choose Our Laboratory Testing Services?
Enjoy the convenience and comfort of going through required investigations while staying at home
Our phlebotomists are highly qualified and experienced
We're affordable, accountable and accessible
FAQs (Frequently Asked Questions)
Q : How do I avail lab test at home from eShifa?
A : To book a test, you can either book online through App or dial 111-274-432 or 051-8464646
Q : What are the diagnostic tests that eShifa do while collecting samples from home?
A : eShifa offers a wide range of routine diagnostic tests and health packages. To view the entire catalog of lab tests at home, visit our App
Q : How will I receive my reports?
A : Your reports will be delivered to you via app or via sms.
Q : Can I avail multiple lab tests at home?
A : Yes, you can avail one or more lab tests at home as per need. You can also take our health packages comprising of specific tests.
Delivery of Medicines to Your Home
eShifa Home Pharmacy services offer our valued patients ease of ordering medicines online and to be delivered at their doorstep. Temperature adherence guidelines and strict transport care measures are followed while delivering the medicine at your premises. Patients can choose from a wide range of products, including prescription drugs, diagnostic equipment, surgical products, home-care aids, skin care products and over-the-counter medicines. Save your time and let our home medicine delivery team deliver medicine at your home.
Availability of a Pharmacist for Prescription Handling
Your prescription is handled and reviewed by a qualified pharmacist to avoid any drug-related errors. All drugs are purchased from reliable sources through a meticulous screening process. The products are stored at controlled temperature according to the specifications to ensure compliance with quality standards.
How to Place Order?
1. Send Prescription (order) on: WhatsApp: 0346-8553841 or email at: prescriptions@shifa.com.pk
2. Provide your Name and Contact Number
3. For general queries, call: 051-8463816, 051-8463195
Availability of Service:
– Timing for home delivery orders: 8:00 am-5:00 pm (Monday-Saturday)
Terms of Service:
– Delivery charges apply
– Valid & genuine prescriptions must be shared for placing orders
– Deliveries outside Rawalpindi/ Islamabad will be done in working days only
For general information regarding medicine use, side effects etc. contact:
Drug & Poison Information Center, Ph: 051-8463977, 8463005 – Timings 8:30 am-5:00 pm
Home Vaccination Services
If your child or anyone at your home requires vaccination, all you need is to call and book an appointment with us. Our experienced nurse will visit your home to administer the required vaccine. Temperature control guidelines and transport care measures are followed while delivering the vaccines to your premises.
Face to Face or Tele-Consultation for Vaccination
Kindly note that it is mandatory to have a face to face or tele-consultation with our recommended pediatrician before getting any vaccination for your child to ensure safety of your child from any drug reaction, etc.
Shifa International Hospital is providing child vaccination services at home which include but are not limited to, like:
H1N1
Measles
Rubella
Mumps
The Flu
Tetanus
Typhoid
Chicken Pox
Pneumococcal vaccines
Hepatitis A and Hepatitis B
Home Physiotherapy Services
Our experienced and skilled physiotherapists provide rehabilitation services at home for the ultimate convenience of our valued patients who find it difficult to travel to the hospital for therapy.
We create personalized therapy plans with a dedicated schedule for therapy sessions focused on your complete rehabilitation and recovery at home. Our home physiotherapy team is skilled in the assessment and hands-on management of a broad range of conditions that affect the musculoskeletal, circulatory, and respiratory and nervous systems.
Services
Muscoskeletal: This includes all sorts of pain including back pain. Knees pain, arthritis, sports injuries and whiplash associated disorder.
Post- Stroke physiotherapy: With regular physiotherapy treatment, muscle tone can be improved making the patient as mobile as possible in paralysis.
Parkinson 's Disease: Parkinsonism is a movement disorder. Physiotherapy treatment can help the patient in gaining more mobility and independence.
Cardiac Rehab Post Heart Attack: Physiotherapy post heart attack helps in decreasing the heart rate and blood pressure at rest and during exercise.
Back Pain: A sedentary lifestyle, poor posture, and daily travel can cause persistent back pain. You no longer need to live with that pain and lead a restrictive life. Just get in touch with us and allow us to relieve you of your pain with the help of qualified and well trained physiotherapist, at the comfort of your home.
Respiratory Physiotherapy: Another major field where the benefits of physiotherapy are used is in respiratory problems like asthma, chronic obstructive pulmonary disease and cystic fibrosis.
Post Surgical Rehab: If you have just undergone surgery, physiotherapy at home can help you get back to normal life faster. Regain your mobility with our expert in-home physiotherapy treatment.
Home Medical Supplies
We are offering quality Medical Equipment & Supplies for Home Medical Care. We deliver all kinds of medical supplies right at your doorstep.
We understand how difficult it can be to find medical equipment for the layman and so we offer a wide selection of products all in one place, with easy home delivery options.
Supplies and Equipment we are currently offering:
First-Aid Supplies
Medication Aids
Walking (Mobility) Aids
Glucose Monitors
Bed Pans
Dressing
Syringes
Gauze
Gloves
Disinfectant
Thermometers
Equipment on Demand