Shifa International Hospital Faisalabad
Shifa International Hospital Faisalabad was conceived and established to pass on professional medical expertise and excellence to over 3 million residents of Pakistan's 3rd largest city. It was inaugurated on August 28, 2011, and is providing healthcare services not only for the people of Faisalabad but patients from the neighboring cities are also taking benefits from this hospital. Shifa International Hospital Faisalabad patronizes the same care & compassion, as adopted and practiced at Islamabad to expand the outreach of quality health services to the masses. Shifa International Hospital Faisalabad caters to different patient segments by offering the services of a qualified team of consultants in multiple medical/surgical specialties.
Punjab Healthcare Commission License:
Shifa International Hospital Faisalabad has achieved the regular license of Punjab Healthcare Commission in 2020. We take pride in achieving this milestone by demonstrating continuous compliance with the quality standards of the Punjab Health Care Commission. Shifa International Hospital Faisalabad is the first hospital in the private healthcare Faisalabad region to have achieved PHC's regular license.
The Punjab Healthcare Commission (PHC) is an independent health regulatory body, established under the PHC Act, 2010 to ensure quality healthcare service delivery at all levels and also to protect the wellbeing of the patients. Achieving a PHC license reflects our hospital's commitment to providing safe and effective patient care.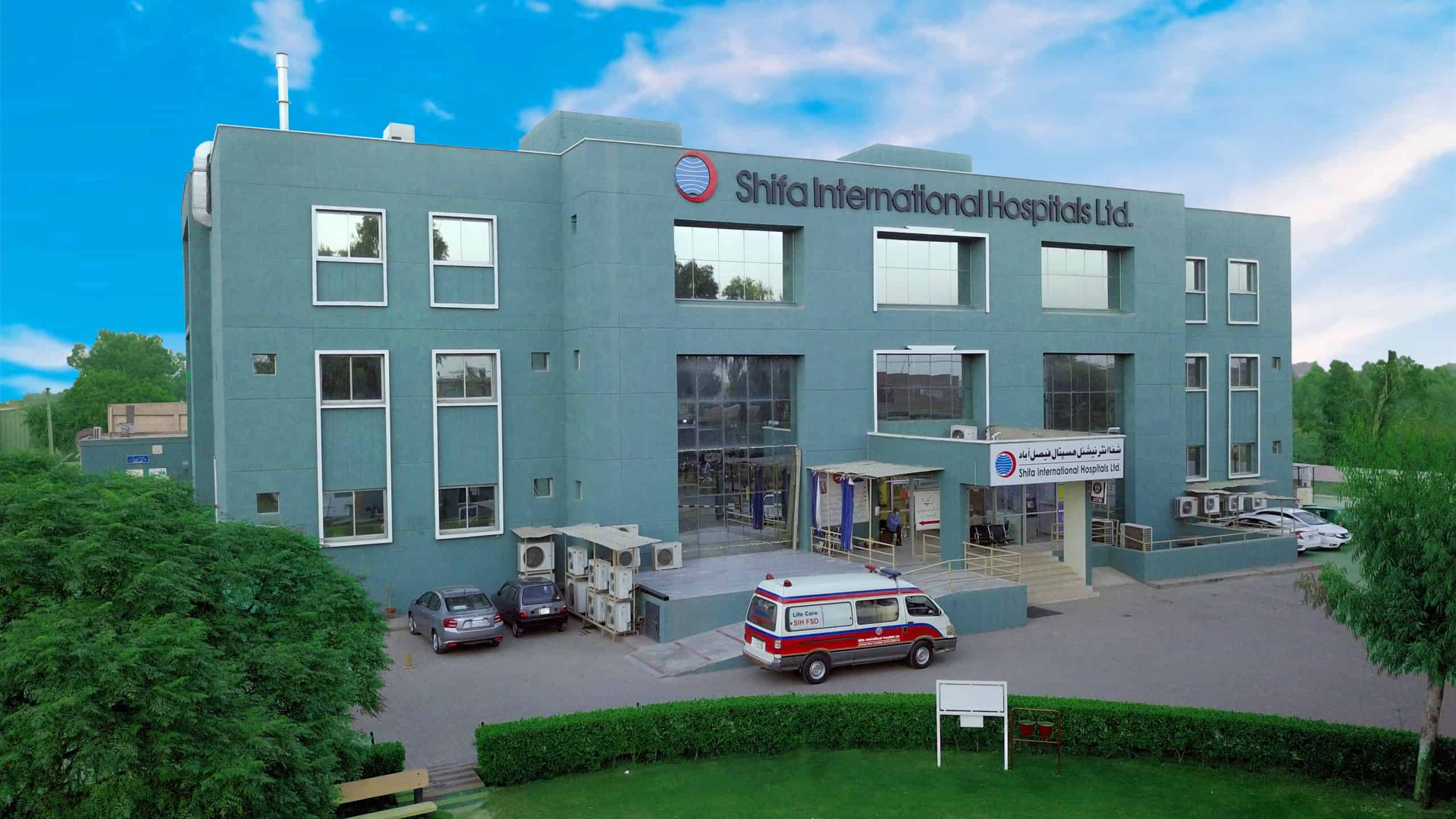 Outpatient Services:
Shifa International Hospital Faisalabad has been rendering its clinical fields with highly trained and foreign qualified consultants which are available to treat the patients in different clinical disciplines.
Specialties:
General & Laparoscopic Surgery
Physiotherapy
In-Patient Services:
General Wards, Semi-Private, Private & Private Plus rooms with state of the art facilities like central oxygen supply, central air conditioning, and electronic beds with TV & refrigerator are also available for admitted patients.
Labour Room/Operation Theaters
A fully equipped labor room and two operation theaters are available to perform all kinds of planned & emergency services.
State of the Art Intensive Care Unit (ICU)
Coronary Care Unit (CCU)
NICU (Neonatal Intensive Care Unit) For newborns requiring critical care a most modern NICU has been established, which is equipped with Incubators, ventilators, infant warmers, and phototherapy machines.
HDU (High Dependency Unit)
Emergency Services: Shifa has a well-structured emergency department in which we have implemented a modern triage system where rapid assessment and treatment are initiated.
Emergency, NICU & HDU at Shifa International Hospital Faisalabad are run by specialized and expert staff, treating major traumas and critical conditions related to medicine and surgery.
In addition to offering healthcare services shifa provides dialysis care with a goal to continually improve the life quality of patients with acute and chronic renal disease. The highest medical standards are our benchmark. This is our commitment to our patients who trust us for reliable services. Patients with kidney disease can now look ahead with much more confidence we offer them best possible quality services for their chronic kidney illness. Our dialysis centre is one of the best centre of the city having world's most advanced Fresenius machines.
Keeping in view the patient comfort we facilitate the dialysis centre with television and free wifi access at our centre we are providing dialysis services for all schedule patients.
At shifa we discourage the reuse of disposable supplies.
Dialysis Services
Dialysis Catheter Placement
Hemo Dialysis
Kidney Biopsy
CAPD
Pre-Transplant Work-up
Arterio-Venous Fistula for Dialysis
Post dialysis mandatory medicines are also available at hospital pharmacy like [ Erythropotin, ketoanalogues, citrolock, vit-d, iron, calcium, albumin, neurobion, etc]
Radiology:
CT Scan (64 slices)

CT Angiography

MRI (open)

Color Doppler Ultrasound
X-Ray (Digital)
Shifa being a healthcare leader in providing the highest quality diagnostic services at affordable price Shifa International Hospital Faisalabad is equipped with the latest internationally benchmarked diagnostic equipment and clinical facilities backed by a highly qualified team of clinical professionals:
Auto-injector for all types of contrast tests
All CT & MRI's are reported by radiologists of Shifa International Hospitals Ltd. Islamabad through PACS [picture archiving and communication system]
Radiology departments are spearheaded and managed by a highly qualified and professional team of radiologists for their expert opinion.
The radiology department is locally supervised by FCPS radiologists
Our aim is to provide accurate final and definite assessment and diagnosis for ailments of our patients in a manner that is cost-competitive and affordable to them.
CT scan
CT scanning can see inside the brain and other parts of the body into areas that cannot be seen on regular x-ray nations. CT makes it possible to diagnose certain diseases earlier and more accurately than other imaging tools because most diseases are better treated when diagnosed early, CT scans can help to save lives, CT angiography at Shifa International Hospital Faisalabad is a safe outpatient procedure that uses specially designed X- rays and intravenous contrast to see the detailed anatomy of the blood vessels throughout the body.
Services Offered:
Cardiac CT Angiogram
Calcium deposit scoring
Cerebral Arteriography / Venography
Whole-body vascular studies like CT Angiography
Dynamic 3 phase scanning for liver and other organs
Rest of the Gamut of multislice CT
MRI [Magnetic Resonance Imaging]
Magnetic resonance imaging is a versatile, powerful, and sensitive but painless medical diagnostic technique that creates images of the body. MRI can generate thin-section images of any part of the body including the heart, arteries, and veins from any angle and direction without surgical invasion and in a relatively short period of time.
Open MRI is available for children and claustrophobic patient's services include Standard MRI of the brain spine and joints.
Both CT scan and MRI are linked with Shifa international hospital Islamabad through PACS [picture archival and communication system] for reliable reporting and diagnosis.
Color Doppler / Ultrasound
Ultrasound imaging also called ultrasound scanning or sonography. It is a method of obtaining images from inside the human body through the use of high-frequency sound waves the sound wave echoes are recorded and displayed as a real-time visual image. No radiation is involved in ultrasound imaging.
Salient features of the department are:
Equipped with modern and state of art ultrasound machines
The full gamut of services including color Doppler arterial and venous studies
Complete obstetrical and gynecological ultrasound with fetal well being
Ultrasound-guided interventional procedures such as biopsies and dranges
Routine abdominal/pelvic imaging
X-RAY [GENERAL RADIOLOGY]
X-RAY is often the fastest and most standard first approach to diagnosis for many conditions from bone ailments to gastric disturbance to breathing difficulties. It provides a physician with a view of basic internal anatomy and potential diseases. Generally a painless experience the results can be available in a very short time to aid you and your physician to achieve a speedy recovery.
Services offered:
Abdomen
Chest
Skeletal
General radiology and other body parts x-ray.
Shifa International Hospital Faisalabad is virtually connected with the main hospital facility in Islamabad through an online link. All of your radiology images can be seen by experts at Islamabad for review and assessment.
Laboratory
Shifa International Hospital ensures world-class standards by coordinating with International & National quality assurance organizations like; CAP (College of American Pathologists) USA, NRL Australia, Bio-Rad USA, NEQAP AFIP, etc.
| | | |
| --- | --- | --- |
| ·       Hematology | ·       Biochemistry | ·       Special Chemistry |
| ·       Microbiology | ·       Histopathology | ·       Cytology |
| ·       Immunology | ·       Molecular Biology | ·       Blood Bank |
Clinical laboratory services at Shifa International Hospital Faisalabad are based on the most modern state of the art equipment, efficient laboratory staff, and quality results within 45 minutes [at hospital premises] to 6 hours [specimens collected at Shifa collection points within the city]
The salient features of the laboratory are:
Laboratory information system
Blood bank information system
Barcoding system
Interfacing of lab equipment
Functionally the laboratory is extending its services under the following disciplines:
Phlebotomy
Hematology
Biochemistry
Special chemistry
Microbiology
Histopathology
Cytology
Cardiology
Electrocardiogram (ECG)
Echocardiogram (ECHO)
Exercise Tolerance Test (ETT)
Holter Monitor
CT Coronary Angiogram
Orthopaedic Exercises
Joint Pain
Back Pain
Frozen Shoulder
Arthritis
Post Fracture
Post-Operative Physiotherapy
Neurological Exercises
Paralysis
Parkinson's disease
Cerebral Palsy
Facial Palsy
Nerve Palsy
Spinal Cord Injury
Chest Physiotherapy for Asthma & to Improve Lungs Compliance
Utilizing Technology for Patient Benefit:
High speed online link to share professional resources of main hospital facility (Islamabad) for benefit of patients at Faisalabad
Your Medical Record & History (Electronic Record):
Shifa International Hospital utilizes the latest database technologies to store all of your medical record history (laboratory, and radiology test reports) and manual record of your examination history. It ensures better patient management and care.
Allied Services:
On-site Pharmacy
A well-stocked pharmacy has been established within the hospital building which can provide all the quality medicines and drugs to the indoor and outdoor patients at a discounted rate.
Food & Nutrition Services for Patients (FNSD)
In order to fulfill the specific food and nutritional requirements of the patient, FNSD has been established disease-specific food is provided to the patient after nutritional assessment by the dietitian moreover a clean and hygienic cafeteria has been established which provides food services to the employees and patient attendants.
Ambulance Service
A highly equipped ambulance is available for transportation of critically ill patients' ambulance has been provided with oxygen to manage serious patients during transfer.
Electricity Backup
635 KVA generator is available to ensure an uninterrupted power supply to the admitted patients and hospital departments. To provide quality time medical care to all patients in a caring and compassionate manner by an outstanding team of health care professionals in an atmosphere conducive to our values and practice of good medicines. We strive to accomplish each patient's needs in a relaxed and professional environment we do not compromise on quality to attain with utmost integrity and respect for our patients and profession.